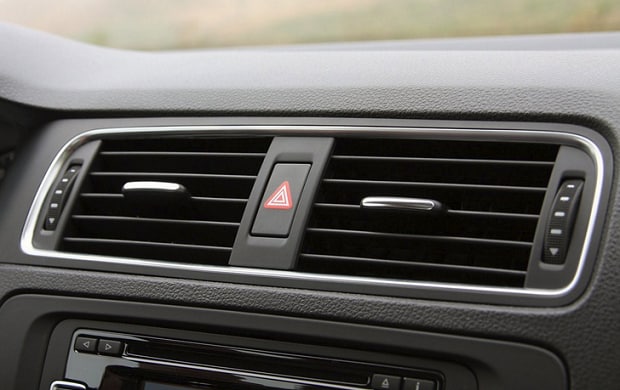 Volkswagen
has denied the use of a new refrigerant in some of their
new VW models
and will be going with
Carbon Dioxide as the cooling source
.  This pushes against the standard set by Honeywell and Dupont.  They have opted for a safer,
greener source of cool air, CO2
.
With the potential risk assessed by companies such as
VW
and BMW with the new AC/refrigerant replacement, being what they would consider to be high, they are looking for safer methods of cooling.  They feel that CO2 would be a good source.

Volkswagen to use CO2 as future refrigerant for air conditioning systems
By Jon LeSage
Another German automaker has rejected the air conditioning refrigerant that's scheduled to be adopted by global automakers in 2017. Earlier this month, Volkswagen lined up with Daimler and BMW to support Daimler's findings from last year that the new refrigerant, called HFO-1234yf, can become flammable.
Volkswagen says it will be rolling out its own carbon-dioxide-based air conditioning systems. The European Union wants to have HFO-1234yf, which was designed by Honeywell and DuPont, replace the coolant currently in use, HFC-134a to significantly reduce CO2 emissions and its global warming potential. Daimler engineers discovered HFO-1234yf could spark a fire under the hood, with the potential to destroy the car and emit highly toxic gas while burning.
An automotive working group – the Cooperative Research Program – was formed last year to study the matter. Daimler conducted its own flammability tests and became concerned enough about vehicle safety to leave the working group, along with BMW. Volkswagen's Audi division also expressed concern and is now part of Volkswagen's decision to join ranks with its German allies and dismiss adoption of HFO-1234yf as the new refrigerant.
European Union Industry Commissioner Antonio Tajani appears unwilling to accept the decision by Germany's "Big 3" automakers or a written request from German ministers asking for a temporary suspension of the new EU law. While Tajani said he would listen, he also said that he would begin infringement proceedings against any member state that did not comply with the new rules. "Since there was some information from Germany there was a problem, I am obliged to ask for information, but it's not giving them time. I am not weak," Tajani told Reuters.
There's no word yet what other agencies such as the US Environmental Protection Agency may do about it. Honeywell and Dupont would be holding a billion-dollar monopoly starting in 2017 if HFO-1234yf goes through. They're bound to support Industry Commissioner Tajani's decision.
Source: [
autoblog
]
Checkered Flag VW
is proud of
VW
for looking into alternative sources of cooling.  Looking for the safest and greenest methods of cooling their vehicles is a great pursuit.  Good job
VW
. 
For more information about
VW
and all that their vehicles have to offer contact
Virginia Beach VW
at (757) 687-3447.  Their push for cleaner more efficient vehicles will ensure greater sales and happier customers.  Become one o f them today by taking the drive into
Checkered Flag VW
,
Hampton Roads
premier
VW dealership
.