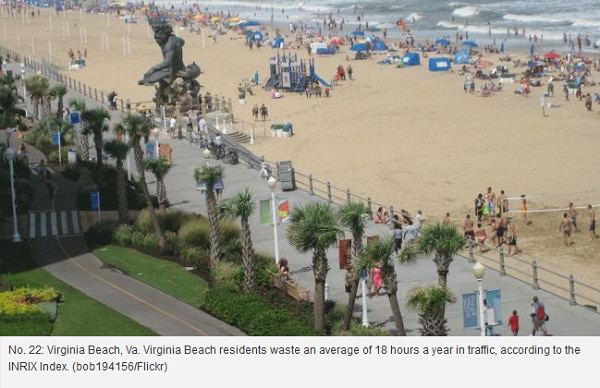 Checkered Flag fans will not be surprised to find their hometown at the top of a newly published list.  The Weather Channel has just released their list of the 2013
Cities with the Worst Traffic
.  And, guess who is at #22. 
According to the report, the average Virginia Beach area resident spends 18 hours per year sitting in traffic.  Yikes!  To make matters worse, they added that all that waiting in gridlock can have some terrible effects on the members of our community members.
"Not only can time spent in traffic wreak havoc on your emotional health and stress levels, but also it can damage your sleep cycle, lungs, heart and brain.
The air pollution from traffic has recently been shown to increase risk for heart disease and stroke, as well as lung diseases, such as COPD and poor cognitive performance. One recent study even linked traffic noise to an increased risk of ADHD in children.
Traffic can be so harmful to kids, in fact, that living near a busy road can cause enough lung damage to trigger asthma, making traffic pollution as harmful as secondhand smoke, a study published in the European Respiratory Journal found earlier this year."
The top three
cities with the worst traffic
are Los Angeles, Honolulu, and San Francisco. 
Well, if you have to sit in traffic, you may as well wait in style and comfort.  Visit any of our eleven
Checkered Flag locations
to find the right ride to keep your stress level at a minimum.  We carry a full selection on environmentally friendly hybrid vehicles including
Toyota Prius
,
Honda hybrid
s, and even
BMW hybrids
. 
For more
Hampton Roads traffic
news, stay tuned to the home of your favorite Virginia Beach and
Norfolk used car
stores,
Checkered Flag
.com.
Info and image source: [
weather.com
]