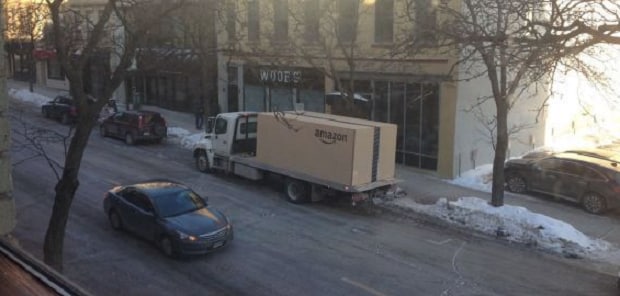 Source: [Huffington Post]

UPS or FEDEX delivery trucks were in my neighborhood at least once, if not more times than that per day during the holiday gift givine season.  With each delivery I was hoping that the package would come to my house, forget the fact that I had not ordered anything!

Many were like me in seeing the frequent whizzing by of the delivery trucks, but I bet you didn't see the Amazon.com delivery of a car-or was it?

Amazon sold just about everything imaginable during the season for giving.  They even advertised a few vehicles.  I am not so sure what came about from those advertisements, but some pretty big boxes have been spotted donning the Amazon tape and smiley face.

There has been quite a bit of speculation as to whether or not the boxes contain the advertised cars, but there are very few things that would need to be delivered on a flatbed trailer.  There are fewer things that would be approximately the size of a small SUV. 

So, Checkered Flag fans, what do you think is in the box?