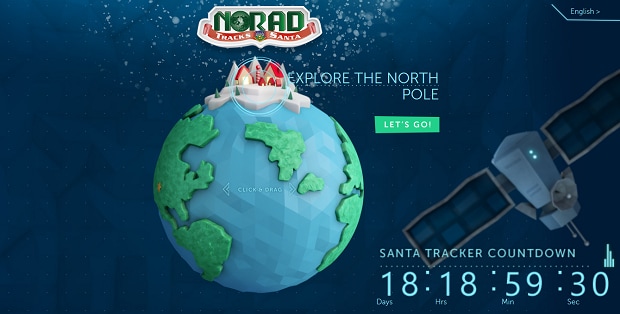 Santa's trip has been followed by NORAD for years, but this year it is catching some flack.  NORAD does a visual showing Santa's current location as he makes his way around the globe, but there are those that don't like his escorts.

Santa is protecting some serious gear.  There is much controversy over the planes that escort him during his travels and how they have previously been armed with missiles.  Checkered Flag fans, where do you stand on this one?

NORAD: No fighter escorts for Santa

As it has every year since 1955, the North American Aerospace Defense Command will be tracking Santa on his whirlwind journey to deliver presents to all the good little boys and girls around the world.

But he won't be escorted by armed fighter jets.

When NORAD recently launched its yearly online Santa tracker, the site featured a video showing the jolly old elf being escorted by U.S. fighter jets "bristling with missiles," as the Boston Globe put it.

That caused a minor earthquake in the Twitterverse about why Santa would need an armed escort. The answer: Russia.

But a NORAD spokesman confirmed to Military Times that the "missiles" are actually fuel tanks.

"Guilty as charged, we tried to give it a more operational feel this year; that was purposefully done to try to highlight our mission sets," said Lt. Cmdr. Bill Lewis. "If you look at the second promo video we have where it talks through a mock training exercise, it really lays out what our different missions are and shows the different radar sets."

So while NORAD will be tracking Santa's flight this Christmas, if St. Nick gets into a tussle with some MiGs, his only defense will be the evasive capabilities of his reindeer.

The decades-old tradition began when a local Sears ad in Colorado, which meant to list a phone number for children to call "Santa," mistakenly listed the number for NORAD's Colorado-based predecessor, the Continental Air Command, instead. When children began calling to talk to Santa, staffers at the command played along, and a tradition was born.

Each year since, the command has issued news and updates about Santa's preparations for his mission and has tracked his position after he takes off.

This year, NORAD has partnered with Microsoft to give the site an extensive makeover.

The site, www.noradsanta.org, not only has a countdown ticker to Christmas, but a new online game is being released each day until Dec. 25. (Shoot hoops with Santa!) There are also videos, holiday music and background information on the Jolly Old Elf himself.

On Christmas Day, the site will map and monitor the location of Santa and his reindeer.

Source: [Navy Times]

So, Hampton Roads, were do you stand on the armed vs. unarmed Santa escort situation?  Many Checkered Flag fans , I am certain, stand more on the side of "Cool, we get to watch Santa."  That is pretty much my place on it.

For more information on upcoming Holiday events, stay logged on to Checkeredflag.com.