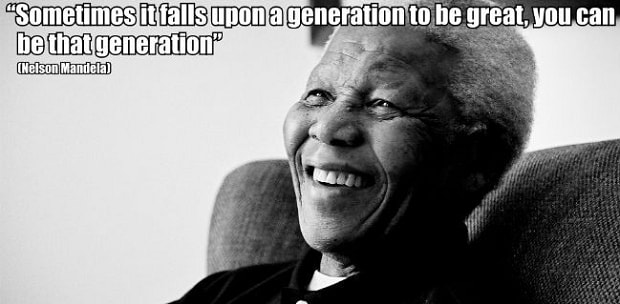 Hampton Roads and the world mourn the loss of an amazing fighter for human rights today.  Nelson Mandela passed away today at the age of 95 after many years of failing health.  No matter his age, the world is saddened by his loss.

World grieves Nelson Mandela's death
Gary Strauss, USA TODAY 7:12 p.m. EST December 5, 2013

Nelson Mandela's death prompted an outpouring of grief Thursday from world leaders and others who honored the beloved South African leader's life and legacy.

Convicted of treason and sentenced to life imprisonment for leading a campaign of sabotage and conspiracy against the government, Mandela spent 27 years behind bars before he was freed in 1990. Yet he was able to help guide an anti-apartheid crusade smuggling messages from the prison. As time passed -- the "long, lonely, wasted years," as he said -- international awareness of apartheid grew more acute. By the time Mandela turned 70, he was the world's most famous political prisoner and an icon of democracy, freedom and justice, winning a 1993 Nobel Peace Prize and serving as South Africa's first black president.

In failing health for years and last seen in public in 2010, his death at age 95 was not unexpected, but saddened many who compared him with other civil rights leaders such as Martin Luther King Jr. and India's Mahatma Gandhi.

President Obama, who drew inspiration from Mandela's life, was effusive in his praise, saying he "could not imagine his own life without the example Mandela set."

"He achieved more than could be expected of any man. We've lost one of the most influential, courageous, profoundly good people to be on this Earth,'" Obama said. "We will not likely see the likes of Nelson Mandela again."

United Nations Secretary-General Ban Ki-moon called Mandela "a giant for justice" whose "selfless struggle for human dignity, equality and freedom" inspired many people around the world. "No one did more in our time to advance the values and aspirations of the United Nations," Ban Ki-moon said.

Mandela also drew praise from former presidents Bill Clinton and George H.W. Bush. "History will remember Nelson Mandela as a champion for human dignity and freedom, for peace and reconciliation,'" Clinton said."We will remember him as a man of uncommon grace and compassion, for whom abandoning bitterness and embracing adversaries was not just a political strategy but a way of life."

Said Bush: "He was a man of tremendous moral courage, who changed the course of history in his country. Barbara and I had great respect for President Mandela, and send our condolences to his family and countrymen."

Andrew Young, former U.S. ambassador to the United Nations, said Mandela took on the task of uniting racially torn South Africa. "He was a phenomenal individual," Young said. "Everything he did was about reconciling differences."

"President Mandela was one of the great forces for freedom and equality of our time," former president George W. Bush said. "He bore his burdens with dignity and grace, and our world is better off because of his example. This good man will be missed, but his contributions will live on forever."

NAACP Chairwoman Roslyn Brock said Mandela "embodied the hopes, dreams, aspirations and values of all who seek justice against tremendous odds."

"He responded to unfathomable violence with peace and courage, and in doing so he forever changed the world," Brock said.

Singer and activist Bono, who knew Mandela and with his band, U2, wrote the song Ordinary Love for the just released theatrical release Mandela: Long Walk to Freedom, said Mandela made the world is a better place.

"It was as if he was born to teach the age a lesson in humility, in humor and above all else in patience," Bono said. "In the end, Nelson Mandela showed us how to love rather than hate, not because he had never surrendered to rage or violence, but because he (learned) that love would do a better job. Mandela played with the highest stakes. He put his family, his country, his time, his life on the line, and he won most of these contests."

Singer Paul Simon, who made a controversial nine-day trip to South Africa in 1985 that some thought violated a United Nations cultural boycott, called Mandela one of the great leaders and teachers of the 20th century. "He conceived a model for mortal enemies to overcome their hatred and find a way through compassion to rebuild a nation based on truth, justice and the power of forgiveness. His passing should reignite a worldwide effort for peace," Simon said.

In Detroit, where Mandela had visited years ago, he was lauded for his warmth and dignity.

"When he got off the plane in Detroit, there was a line of dignitaries waiting to greet him," said Damon Keith, a judge on the U.S. Court of Appeals. "He walked past the governor, the mayor and many others toward the end of the line where (civil rights activist Rosa) Parks stood. That showed me the impact of the civil rights movement on him and the entire world."

Source: [USA Today]

To say that Nelson Mandela was an activist would be an understatement.  The man changed the world that he lived in for the better with every day he took breath. 

Checkered Flag and their family of new and used car dealerships in Hampton Roads wants to celebrate the amazing man's works and life.  The loss is felt by many more than he could have ever known he touched.

Thank you for your life and sharing it with the world Mr. Mandela.