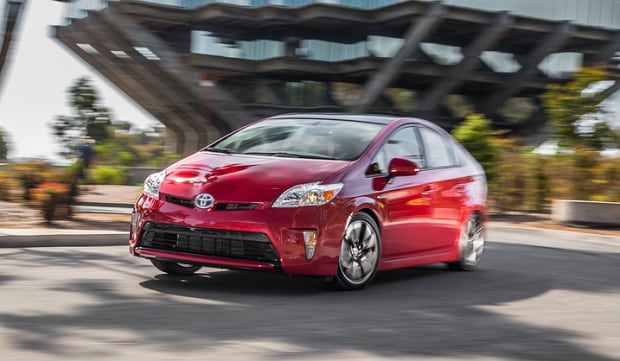 Best and Worst value for your money in the car market picks have been made for 2013 by Consumer Reports.  Checkered Flag Toyota, Honda and VW are doing cartwheels in the parking lot because they made 90% of the list. 

That makes Checkered Flag the best value for your next car purchase. 

Best & Worst Values
Vehicles that provide the best bang for the buck and those that are costly
Last updated: December 2013

We think that real value is not necessarily how much you spend but what you get for your money. Vehicles that are reliable, perform well, and don't cost much to own represent the best values. Overall, small cars and sedans provide the best bang for the buck.

Our list (shown in rank order) below highlights models that offer the best or worst combination of performance, utility, and reliability for the money, considering all owner costs over a five-year period. All have an automatic transmission, except where noted, and typical options. Best values are all recommended.

Best    
Toyota Prius Four
Honda Fit (base)
Scion xB    
Subaru Forester 2.5i Premium    
Volkswagen Golf (2.5)    
Toyota Corolla LE Plus
Volkswagen Golf TDI (manual)
Honda Civic EX
Honda Civic Hybrid
Subaru Impreza Premium

Worst
Nissan Armada Platinum
BMW 750Li
Jeep Wrangler Unlimited Sahara
Cadillac Escalade (base)
Cadillac XTS Premium
Lincoln MKX (3.7)
Lincoln MKS (base, 3.7)
Ford Explorer XLT (V6)
Ford F-250 Lariat (6.7L, V8)
Nissan Pathfinder
   
Source: [Consumer Reports]]

Minus one exception of the BMW 750Li (and who buys a 750Li because of the cost, you buy it because it is one amazing vehicle with features that make it practically magical) Checkered Flag swept the best and was completely absent from the Worst of the list. 

I was surprised by some of the picks for the Worst list as many of the companies don themselves as being very practical and cost effective.  It goes to show that a bit of self research goes a long way. 

To help you in that car buying research, contact the knowledgeable agents at Checkered Flag by calling (757) 687-3447.  They can help you determine a list of vehicles that will help you accommodate needs and wants and help you keep costs low.  With having so many amazing brands at their fingertips it makes that research very easy.