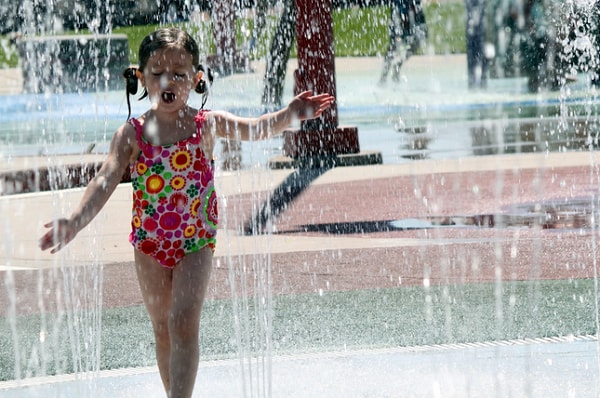 How can your little ones find relief from the heat this summer?  Suit them up and take them to one of our dozens of local water attractions. 
Here's a list of
Hampton Roads water play areas
from our friends at MyActiveChild.com.
Hampton
Peninsula Town Center Fountains - open seasonally for FREE summer water play. Summer hours Monday-Saturday from 10am-9pm. Located in the Town Square of Peninsula Town Center.

Newport News
Doris Miller Community Center- open seasonally (mid-June through the summer) for FREE water play with sprayers, a spray tunnel, waterslide, and pool. Free admission. Waiver required for everyone entering the pool. (thanks Savvy Shopper)
Norfolk
Norfolk Botanical Garden splash pad
- located within the
WOW Children's Garden
the fountains come on seasonally for summertime water play and run from April 1 – October 15. Free with Garden admission. Shoes are required.
Norview Splash Pad- Free & Open to the public at Norview Community Center - 6380 Sewells Point Road, Norfolk VA. Open to the public from 10am to 8pm everyday beginning mid-June through Labor Day and weekends through September 30.
TowneBank
Norfolk Fountain Park
- water fountains are on seasonally for FREE summer water play. Beginning on Wednesday, June 19, 2013 Fountain Field Days begin- free weekly events where children and families can come out for special programs and enjoy some fun! 
Virgina Zoo- water fountains (including Fountain Plaza) within the Zoo are on seasonally for water play. Free with Zoo admission. Fountains scheduled to turn on May 27, 2013.
Portsmouth
Westbury Splash Park- Open Tuesday - Sunday 11:30AM – 7:30PM. Admission is $2 and opens for the season on May 18th (weekends only) and weekdays beginning  June 18, 2013. The park will remain in operation through Labor Day weekend.
Virginia Beach
Ocean Breeze Water Park
- an extensive world of water fun with play areas for the little ones and wave pools, slides and other attractions for the adults and older kids. Paid admission.
Williams Park Sprayground and Indoor Water Playground- a water play area (sprayground outdoors, water slides/play indoors) located at the Williams Park Recreation Center. Must be a member or purchase a day pass. Day pass prices: $8 adult, $5 youth.
Williamsburg
Water Country USA
- water park with fun for all ages including the little kids. Rides, slides, entertainment and more. Paid admission.
Military Only
Joint Forces Langley-Ft Eustis Aquatic Center (military only)- indoor water park and pool open to military on Ft Eustis.
Joint Forces Little Creek-Fort Story's Gator Water Park (military only)- water park open to military on the JEB Little Creek-Fort Story Base. Pool also available on base.
Naval Station Norfolk's Lagoon Water Park (military only)- CLOSED for 2013.
Oceana's Aeropalms Water Park (military only)- water park open to military on the Oceana Naval Air Station Base. Pool also available on base.
For more places to have fun in the sun this summer, stay tuned to
Checkered Flag
.com. 
Information source: [myactivechild.com]