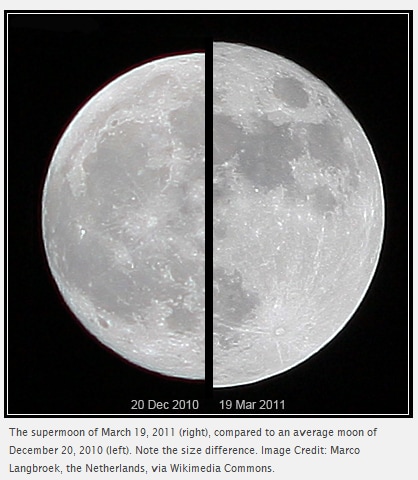 If you've been online this week, you've probably seen some images of a monstrous "
supermoon
" floating around Facebook and other outlets.  While the clearly photo-shopped images are a drastic exaggeration of how the June 23rd skyline will look, the supermoon is real. 
Here's the details from EarthSky.org.
Full moon falls on June 23, 2013
at 11:32 UTC (6:32 a.m. CDT in the U.S.). Thus, for many, the moon appears about equally full in the June 22 sky as it does on June 23. This full moon is not only the closest and largest full moon of the year. It also presents the moon's closest encounter with Earth for all of 2013. The moon will not be so close again until August, 2014.
At United States' time zones, that means the moon will turn full on June 23 at 7:32 a.m. EDT, 6:32 a.m. CDT, 5:32 a.m. MDT and 4:32 a.m. PDT.
We astronomers call this sort of close full moon a perigee full moon. The word perigee describes the moon's closest point to Earth for a given month. Two years ago, when the closest and largest full moon fell on March 19, 2011, many used a term we'd never heard before: supermoon. Last year, we heard this term again to describe the year's closest full moon on May 6, 2012. Now the term supermoon is being used a lot. Last month's full moon – May 24-25, 2013 – was also a supermoon. But the June full moon is even more super! In other words, the time of full moon falls even closer to the time of perigee, the moon's closest point to Earth. The crest of the moon's full phase in June 2013, and perigee, fall within an hour of each other.
What does supermoon mean exactly? And how special is the
June 23, 2013 supermoon
?
The word supermoon didn't come from astronomy. Instead, it came from astrology. Astrologer Richard Nolle of the website astropro.com takes credit for coining the term supermoon. In 1979, he defined it as:
    -a new or full moon which occurs with the moon at or near (within 90% of) its closest approach to Earth in a given orbit (perigee). In short, Earth, moon and sun are all in a line, with moon in its nearest approach to Earth.
By this definition, according to Nolle:  There are 4-6 supermoons a year on average.
What is a supermoon
?
That doesn't sound very special, does it? In fact, the June 2013 full moon lines up much more closely with perigee – the moon's closest point to Earth – than Nolle's original definition. According to Guy Ottewell's Astronomical Calendar 2013, the 2013 June full moon falls only 22 minutes after the moon reaches perigee, the moon's closest point to Earth for this month and year. At perigee, the moon lies only 356,991 kilometers (221,824 miles) away. Two weeks later, on July 7, the moon will swing out to apogee – its farthest point for the month and year – at 406,490 kilometers (252,581 miles) distant.
In fact, June 2013 presents the moon's closest encounter with Earth until August 10, 2014, at which time the moon will be a scant 5 kilometers closer to Earth.
For more
June 2013 supermoon
news, stay tuned to
Checkered Flag
.com.
Source: [earthsky.org]