Happy 4th of July,
Checkered Flag
fans!  Let's get this summer started right. 
We're back once again with a summer full of
tips to keep your travels safe
and your summer driving enjoyable.
Already, our Hampton Roads weather is all over the place.  Crazy hot and humid days are followed by spectacular firework-like lightning storms.  This past week we had temps over 100, flash flooding, and even funnel clouds.  If you're like me, you've been battening down the hatches, checking the batteries in the flashlights, and keeping an inventory of water and sunblock that the army would appreciate. 
So, I'm sure you all have your homes and families equally weather-proofed, but what about your vehicles.  Mother Nature can take quite a toll on our four-wheeled friends during the summer, and although you may not be able to prevent your neighbor's tree from falling on your brand new
Checkered Flag BMW
convertible top, you can take some simple precautions and employ a little common sense. 
A major problem that occurs during these hot summer months is
engine overheating
.  You see those people pulled off the road with their hood open and steam billowing out…that's a sure sign of engine overheating.  Do they look like they are having fun?  Never.  Can you prevent this from happening to you?  Absolutely.  
Make sure to keep an eye on your
engine temperature gauge
.  If the needle starts to wander over to the hot side, pull over immediately.  If you continue to drive with an overheated engine, your vehicle could be severely damaged, and you are likely to have to pay for an expensive tow and repairs.  If you are absolutely unable to pull off of the road safely, say on a mountain-side or a bridge, turn off your air conditioner and turn your interior heater on to alleviate some of the engine heat until you are able to pull off. 
Next, after you are in a safe location, and the engine has cooled enough for you to safely open the hood, check your antifreeze level.  Repeat:  Do not try to open your radiator cap before the engine is cool enough.  Scalding hot liquid could spew out and burn your face off.  Seriously.  If there is no antifreeze or coolant at all in the radiator or reserve, do not try to drive any further.  There could be a loose or leaking hose or even a hole in the radiator itself.  Call for help.  Driving without coolant will permanently damage your engine. 
If your antifreeze level is low, and you have backup available, fill the reserve to the designated level.  If the level is low, and like most people, you don't carry a jug of antifreeze with you, simply add water to the fill line on the coolant reserve or radiator.  This should buy you some time to get to a service station or dealership safely.  However, this is not a recommended remedy for extended driving.  When you get back on the road, keep your AC off and the heater running.  Yes, I know it will be uncomfortable, but it could save your engine, and in turn save you a ton of money.  Make sure to keep an eye on that temperature gauge.  If it starts to creep back towards the red, pull over and call for a tow and have them take you to your nearest
Checkered Flag
Virginia Beach automotive service center
.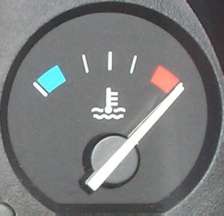 Of course, the most effective manner of
preventing engine overheating
is to keep up with
vehicle maintenance
.  By visiting your local
Checkered Flag service
centers for timely upkeep, oil changes, and inspections, you can be sure that your vehicle is in the best shape to get you and your family around safely all summer.