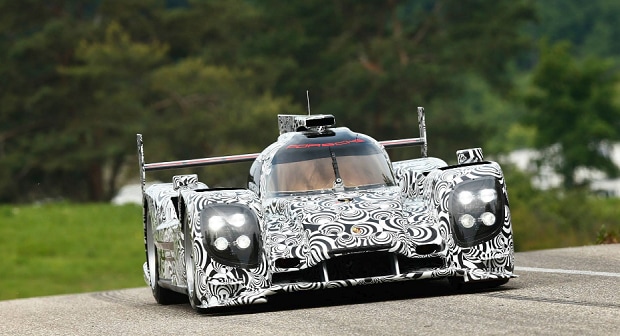 The first rollout of the
LMP1 Porsche Prototype
has been successfully completed and is on track to compete in the
Endurance Championship
and the
24 hour Le Mans race
for 2014.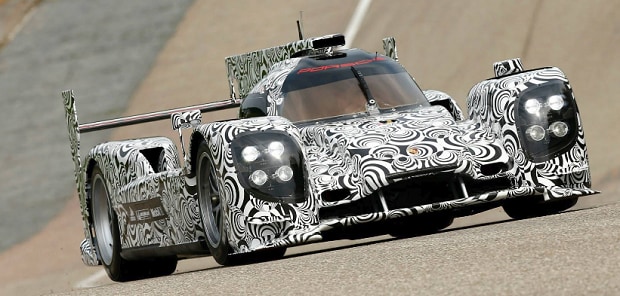 Checkered Flag Porsche
fans, be very excited for what this new
Prototype
has to offer.  Although Porsche did not have much to say regarding their new treasure, it will most certainly be a force on the track.  Many of the pictures speak for themselves.
Porsche LMP1 sports prototype revealed
Porsche has released the first
pictures of their LMP1
sports prototype which will compete in the World Endurance Championship and the 24 Hours of Le Mans in 2014.
Recently tested in front of the company's board, the LMP1 sports prototype was driven by Timo Bernhard who remarked "I'm very proud that I was the one to take our baby through its first paces today."
Porsche didn't have much to say about the car but we can see that it features ventilated fenders, a vertical stabilizer and a prominent rear wing. There's also a front splitter and distinctive LED headlights.
According to Porsche LMP1 Head Fritz Enzinger, "Our newly formed team has worked with utmost concentration on getting this highly complex vehicle on the track as soon as possible. This allows us a few additional weeks for more testing and further development."
Porsche CEO Matthias Müller added "The engineers were able to start with a blank sheet of paper in the design of the new LMP1 car that was out here today on the Weissach race track for the first time. Hence, they were able to apply many new technologies within the framework of the regulations that will also benefit the customers of our road legal automobiles in the future. After all, there's a race car in every Porsche."
Source: [
worldcarfans.com
] via Porsche
For more information about the Le Mans race and all other upcoming
Porsche
events, stay logged in to
checkeredflag.com
or visit
Virginia Beach's Porsche Dealership
,
Checkered Flag Porsche
.  Call them today at (757) 687-3447 to schedule a visit and experience the racing tradition for yourself.