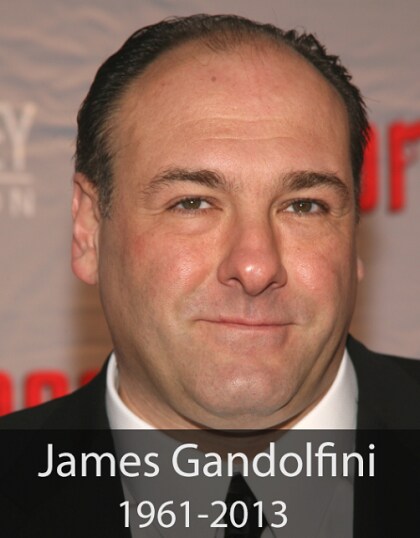 While visiting the film festival and vacationing with family,
James Gandolfini
died today in Rome, Italy.  He suffered a massive heart attack which took his young life.  It is sad to see such talent pass.  The
Checkered Flag
family mourns his loss.
James Gandolfini, Who Portrayed Tony Soprano, Dies at 51
By MICHAEL S. JAMES and LESLEY MESSER
June 19, 2013
James Gandolfini, the actor who most famously portrayed Tony Soprano on the series "The Sopranos," has died in Italy at age 51, according to his managers and HBO, which broadcast "The Sopranos."
"It is with immense sorrow that we report our client James Gandolfini passed away today while on holiday in Rome, Italy," said his managers, Mark Armstrong and Nancy Sanders. "Our hearts are shattered and we will miss him deeply. He and his family were part of our family for many years and we are all grieving."
HBO said in a prepared statement, "We're all in shock and feeling immeasurable sadness at the loss of a beloved member of our family. He was special man, a great talent, but more importantly a gentle and loving person who treated everyone no matter their title or position with equal respect. He touched so many of us over the years with his humor, his warmth and his humility. Our hearts go out to his wife and children during this terrible time. He will be deeply missed by all of us."
Though he rose to his greatest fame with "The Sopranos," Gandolfini also has a long list of credits as a stage and film actor, largely in character and supporting roles.
Recently, he portrayed CIA Director Leon Panetta in "Zero Dark Thirty," and he also appeared in the recent films "The Incredible Burt Wonderstone" and "Not Fade Away."
He also starred in the Broadway hit, "God of Carnage."
Gandolfini was born Sept. 18, 1961 in Westwood, N.J.
He and his wife, Deborah Gandolfini, recently became parents of a baby girl, Liliana Ruth Gandolfini, on Oct. 10, 2012, according to USA Today. He also had a son, Michael, with his former wife, Marcy Wudarski, the paper reported.
Source: [
abcnews.com
]
I guess there is no more fitting a place to pass for an actor best known for his "mobster" character.  His family was enjoying a vacation in Rome, Italy during their film festival.
The
Checkered Flag
family, along with their
new
and
used car dealerships
, is saddened by this news.  He was such a talented character actor.  His presence on the silver screen will be forever missed.