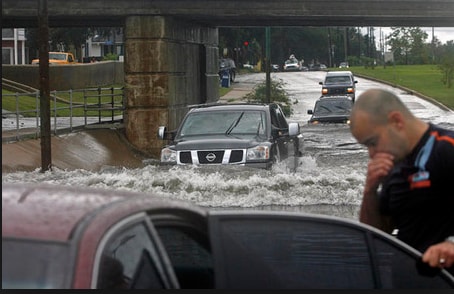 Each June we kick off our Checkered Flag Summer Safety Series.  Our first installment is all about something we Hampton Roads drivers are all too familiar with:  flash floods. 
Every summer, we have dozens of vehicles brought in to our Virginia Beach Body Shop for flood-related vehicle repairs.  Listen up, Hampton Roads drivers.   Like I've said before, cars are not boats. 

Over the past few weeks we had temps in the high 90's, flash flooding, and even tornadoes in Hampton Roads!  If you're like me, you've been battening down the hatches, checking the batteries in the flashlights, and keeping an inventory of water and sunblock that the army would appreciate.
 
So, I'm sure you all have your homes and families equally weather-proofed, but what about your vehicles.  Mother Nature can take quite a toll on our four-wheeled friends during the summer, and although you may not be able to prevent your neighbor's tree from falling on your Checkered Flag Porsche convertible top, you can take some simple precautions and employ a little common sense.
 
Anyone that lives here in the seven cities area is certainly familiar with the term Flash Flooding.  One minute you're sitting in traffic on your way home jamming out to Mamma Mia soundtrack that you would never admit owning to your friends, and the next, you find yourself under a black sky and hear that unmistakable warning grumble of Tidewater thunder.
 
The skies open up and buckets upon buckets of rain dump down right on your path home.  Since a good portion of Hampton Roads is at or below sea level, we tend to have a bit of a problem with drainage.  Major roads and interstates flood within a matter of minutes…always during rush hour, of course.
 
Now, your brain starts to battle against itself.  "I know I shouldn't drive through puddles the size of lakes, but, if I don't get through, I won't make it home in time for Jeopardy."   Geez, what to do, what to do???  Then, you're hungry tummy chimes in and your good senses have lost.  Somehow, you rationalize that if that Toyota Tundra in front of you just made it through, then certainly your Yaris will be fine.  I mean, they're both made by the same people, and both are sold by Checkered Flag Toyota, so surely they have equal seaworthiness, right.  The next thing you know, you're in a spot like the dummies above.

I did a little research before starting on this article, and I have to say, I am flat out flabbergasted that there are people out there who honestly think that there are secret tricks to driving through water that will keep your vehicle safe.  My solution for this week's scenario is simple.  Automobiles are not boats.  Checkered Flag does not sell anything that is meant for deep puddle diving!  Keep them out of water! 

Do not park in areas that are clearly labeled as flood zones.  Yes, you may only be running in for five minutes, but that is all it takes to ruin your car.  I don't want to name names here, but there are certain places in Hampton Roads that have parking lots that flood on a regular basis (basically, anywhere near the Ghent area).  If a major storm is headed your way, park on the second or third floors of a parking garage.  The city of Norfolk often allows free parking in city garages during tropical storms and hurricanes.
 
When you are already on the road, avoid areas where you have witnessed standing water or flooding before.  If a route is unfamiliar, do not drive into standing water unless you are positive of its depth.  Most cars have a clearance of only 6 or 8 inches.  Even if the water seems only 2 or 3 inches deep, wake from other vehicles in the area can cause depth changes up to triple that height.
 
Either pull off the road onto higher ground, or, pull to the shoulder and wait for the water to recede or turn around and take an alternate route.  It may take you additional minutes to hours to get home, but think about it…is it worth a couple of thousand dollars?  Of course.
 
Flood damage can greatly depreciate the value of a vehicle.  This could amount to thousands of dollars' worth off of trade-in value or resell value.  If you think you can just let the car dry out and everything will be fine, think again.  Even if your car runs fine after being flooded or stalling in water, there are tell-tale signs that will be obvious to a dealer or service technician.  If you have already made this mistake and want to minimize the loss in value, and make sure your vehicle keeps running smoothly, get into your Checkered Flag service center as soon as possible.  There are ways to repair damage you may not even know has been done to your engine before further problems arise.