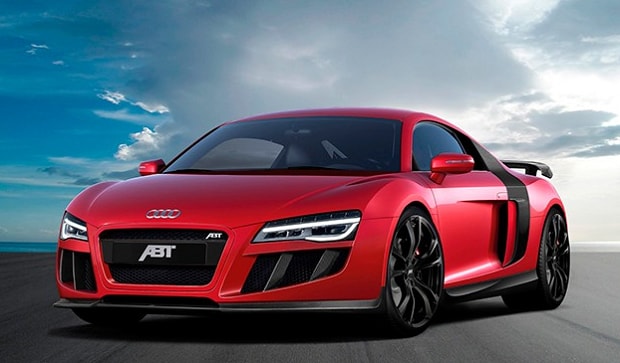 Having some very fast friends is makes the
Audi R8 V10
even more impressive a ride.  The
Audi R8
is equipped with a
V10 engine
and is well versed in going fast (as a gross understatement), but with the help from some overseas tuners they have made the vehicle a beast of speed greatness.
Checkered Flag Audi
is the proud to host some incredible vehicular masterpieces.  Read on to hear more about the work done to the R8 and what they were able to accomplish with ABT's help.
Audi R8 V10 gets tuned up by ABT
By Jonathon Ramsey
Bavarian tuners ABT have done another job on the
Audi R8 V10
, pumping up the 5.2-liter FSI V10 from 525 horsepower to 600 hp, and torque from 391 pound-feet to 406 lb-ft. With 50 more horsepower than the R8 V10 Plus - but not the extreme weight-loss scheme - ABT claims a 0-62 mile per hour run of 3.5 seconds, the same as the
R8 V10
Plus, and a top speed for the mid-engined coupe of 198 miles per hour "is no problem at all."
Managing all that speed are the aero tweaks provided by a comprehensive body kit including a rear wing, a lowered and beefed-up suspension, a stainless steel exhaust and 19-inch wheels in two different designs.
While ABT hasn't put a price on the Audi upgrades, but it's safe to say that nearly 200 mph in an R8 won't come cheap.
Source: [
autoblog.com
]
Virginia Beach Audi
loves to hear about special
Audi modifications
and all that is available to the
Audi owner
.  Their
parts department
is available to help our
Hampton Roads
residents and
Audi enthusiasts
gain all that they desire in the way of power or speed.
For more information about what is available to you through
Audi sales or parts and service
, call them today at (757) 687-3447.  The knowledgeable agents will help make your vehicular dreams come true.