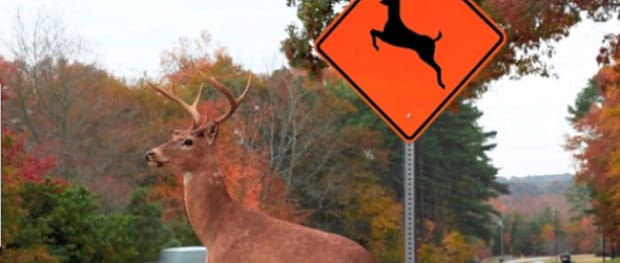 There sure are some crazy legislative battles at the "Hill", but who would have thought roadkill would be one of them?  Apparently each state has its own roadkill law and makes it a point to determine whether or not someone can EAT the found specimens. 

Okay, now that I have choked back my lunch-really?  Apparently each state has a roadkill law and strictly regulates the acceptability of obtaining dead animals off the road, and using them for food or fur.  This is just too weird not to share with the Checkered Flag fans out there.

Montana about to legalize roadkill recovery, what's your state's law?
By Jeremy Korzeniewski

"It really is a sin to waste a good meat," says Montana State Sen. Larry Jent, D-Bozeman. And so he's trying to do something about such sinfully wasteful practices by introducing legislation in Montana that would make it legal to recover roadkill – be it elk, deer, antelope or moose – for food. According to reports, it's likely that the bill will be passed.

Smell funny to you? You may be interested to know that Montana is hardly the first state to allow certain individuals the right to scrape up good roadkill to be used for the harvesting of pelts and/or meat, and there are quite a few that don't have any particular laws that either allow or forbid the practice. For instance, states like Mississippi, Oklahoma, North and South Dakota, and many others have no laws one way or the other, while states like New York, Idaho and Wyoming allow collecting roadkill as long as it's reported to the state. A few states prohibit the practice under any circumstance including, surprisingly, Texas.

Want to know if your state is among the many that permits road kill collecting? Click here for an interactive map of roadkill collection laws for each state. And now, if you'll forgive us, we're going to step away for a moment for a quick snack.

Source: [autoblog]

I guess I am going to start hitting the pavement to find dinner.  That was a joke.  With Virginia's laws regulating the ownership of game ownership of any form of game is strictly regulated.  Hunting and fishing is watched over closely.  I guess this is understandable-why wouldn't we make sure to watch over such a hot commodity as roadkill.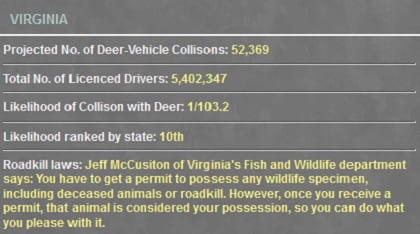 Tuesday is such a dull day for most.  I hope the Hampton Roads and beyond, checkeredflag.com readers found some interest in obscure legislation and VA law.  Stay logged in for the most late-breaking news regarding the obscure.