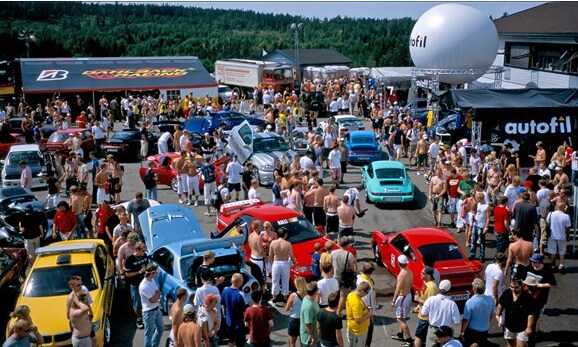 Trust me. 
Car-crazy
is an actual disease.  So, what do out-there auto enthusiasts do on a nice spring day?  Well, while the rest of us are out hitting the shops or having a nice brunch, an entire sub-culture of worldwide proportions are revving up their engines and participating in some not-so-normal drive time. 
World's wackiest car events
By Kyle Kinard of MSN Autos (edited for length)
Car-crazy folks are a wacky bunch. They spend their free time tinkering with carburetors and compulsively organizing open-end wrenches. Grime under their fingernails and bloodied knuckles are the only giveaways that they walk among us. Their devotion to the car can sometimes border on mania — and these maniacs love company. Each year, enthusiasts commune at events near and far to let their automotive freak flags fly. When they gather, the results often amount to automotive insanity. Click through to see 15 of the wackiest car-culture events from across the globe.

Gatebil Festival
Rudskogen, Norway
The Rudskogen Motorsenter is Norway's oldest racing circuit, and each year more than 50,000 people — in a country of just 5 million — make a pilgrimage to celebrate all things fast and furious. Gatebil is a "run what you brung" festival of speed, where pros and amateurs can mix it up on the track during the day and party long into the night. But the real story here is the cars, which usually have obscene amounts of power stuffed into an unassuming shell. Drifting a 1,000-horsepower Volvo station wagon? Yes, please.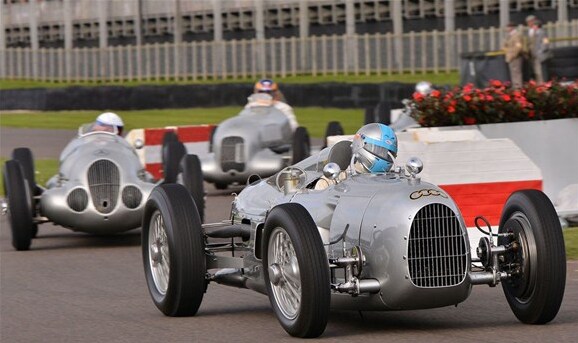 Goodwood Revival
Chichester, England
An invasion of tweed coats and RAF bomber flyovers may sound like a German nightmare from the 1940s, but for three days each September, the Goodwood Revival is a fantasy come true for nostalgic car and airplane nuts. During the event, the classic Goodwood racing circuit near Chichester is transformed with period-correct props and a corresponding dress code. No modern cars are let on the grounds during the event, allowing attendees to take a step back in time — only without that pesky Blitz.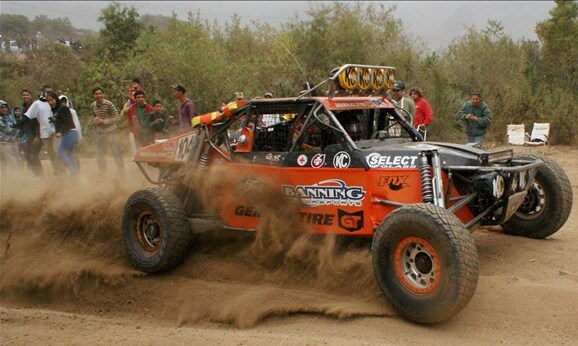 The Baja 1000
Baja Peninsula, Mexico
Competitors in this legendary 1,000-mile race through the heart of the Baja Peninsula are crazy enough; punishing heat, perilous terrain and fierce competition push these bush pilots to their limits. But it's the spectators along the route that sometimes force drivers over the edge. The crowds have been known to convert unassuming mud puddles into 3-foot-deep pits, and some teams have even been held up by drug traffickers. For a couple of days in November each year, the Wild West is just south of the border.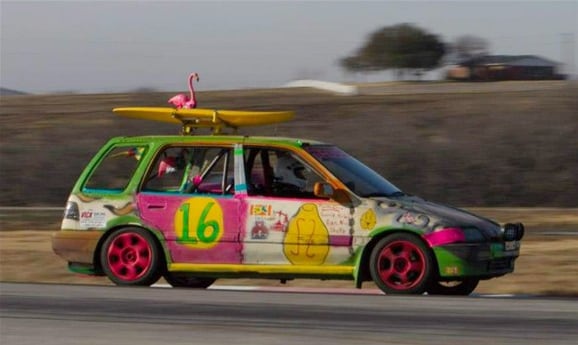 ChumpCar
/LeMons racing
Various locations, United States
Racing is typically a rich man's game, but LeMons and ChumpCar events make speed available to the masses. At racetracks across the U.S., road warriors with $500 budgets compete at high speeds in cars designed to look like sharks or covered in sticky notes. There's nothing quite like the atmosphere at a LeMons or Chump event, and nothing as thrilling as nearly being immolated inside a Ford Probe.
The Gumball 3000
Various locations worldwide
The Gumball 3000 is a simple concept, really: Wealthy miscreants in flashy supercars parade across continents at triple-digit speeds in an annual around-the-world odyssey. Oh yeah, and there's one hell of a party waiting for the participants at each stop along the way. MTV's famously rowdy "Jackass" crew took part in the rally in 2001 and was promptly worn down by the event's frenetic pace. That's some party.
Burning Man
Black Rock Desert, Nevada
The vehicles brought to Burning Man each year can best be described as one part art car, two parts acid trip. The cars are fantastical and imaginative and every bit as unique as the Burning Man festival itself. Each car must be registered with the DMV — in the case of Burning Man, that means the Department of Mutant Vehicles — before it can cruise around the festival, but that's where the similarities with your car end. That is, unless your car is a giant snake made up of thousands of LEDs or a rolling Cheshire Cat.
For more
crazy automotive stories
, stay tuned to the home of your wackiest
Virginia Beach Volkswagen
store,
Checkered Fla
g.com.
Article and image source: [autos.msn.com]