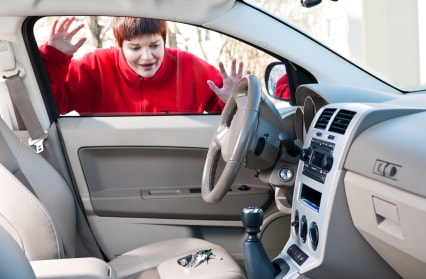 One thing is for sure.  Drivers love a smart key.  But, many smart key users do not know the ins and outs of their smart key system.
When you purchase a new vehicle from Checkered Flag, your sales associate will give you a full run-through of all the buttons and functions of the vehicle then recommend you read the owner's manual.  While the smart keys available with many of our new vehicles are really cool and exciting, it is important to know the ins and outs of all of your smart key functions.  

AAA SAYS MILLIONS OF MOTORISTS STILL LOCKED OUT ON SMART CAR KEYS

Motorists' smart key learning curve results in risky and costly lesson

VIRGINIA BEACH, Va., (March 07, 2013) - Even as the technology, security and convenience of automobile "smart keys" evolve, AAA finds motorists are not keeping pace and are frequently outsmarted by their "smart" keys. In 2012, AAA came to the rescue of over four million members who locked themselves out of their vehicles, a number that has dropped little in the past five years; even as use of smart keys has increased. In Hampton Roads alone, AAA Tidewater answered 27,365 lock out calls in 2012. First available in luxury brands like BMW, Mercedes and Lexus, almost all automakers now offer the smart key as standard or optional equipment within their fleet of vehicles. As a modern convenience, transponder fobs allow motorists to enter and start their vehicle key-free.

"Traditional car keys will likely become obsolete and be replaced by technologies offering even greater security and convenience," said Georjeane Blumling, spokesperson for AAA Tidewater Virginia. "Motorists will need to adapt with the technology to avoid the hassle and expense of smart key replacements."

While new smart key features provide a long list of conveniences, including remote start and stored driver profiles, motorists unfamiliar with operating keyless fobs can face risky situations and lockouts. Forgetting to turn off the car before exiting the vehicle, or not knowing how to quickly shut down the engine in an emergency, has proven to be a problem for some. For those systems with remote start capability, it is critical that motorists never start the vehicle in an enclosed space where engine exhaust gasses containing poisonous carbon monoxide can be trapped - with potentially fatal consequences.

Just as motorists adjust to smart key features, they may be surprised to learn that smartphones may soon be an option to replace their car key altogether. Electric vehicles from Chevrolet and Nissan today have special mobile apps that can be used to monitor and control many of their basic functions. Hyundai recently unveiled a more advanced concept that allows motorists to enter and start a vehicle using a specially-configured smartphone that can then interface with the vehicle to provide additional functions and services. Some of this technology could be seen in vehicles as soon as 2015.

The greater conveniences and features of modern car keys do not come cheap and require more maintenance. The purchase price of vehicles that offer modern key technology are higher, the fob battery must be changed periodically and it can cost hundreds of dollars to buy, cut and program a new or replacement key.

"The cost to replace a transponder key runs around $100, and replacement smart keys can cost several hundred dollars depending on the make and model," continued Blumling. "Many newer keys must be programmed by a dealer or locksmith with special electronic equipment and accesses to highly confidential codes that are required to service the vehicle security system.

AAA recommends motorists take special care of their transponder and smart keys. Here are some steps that can help prevent danger, loss or damage of vehicle keys, and limit the replacement cost in the event a key is misplaced:

• Familiarize yourself with the full capability of your smart key and know what to do in an emergency situation
• Become comfortable with the features of the smart key in a safe environment
• To avoid keyless-entry remote or smart key failure, replace the key/fob battery every 2 years or when recommended by the vehicle manufacturer or the in-car low battery warning system.
• Don't expose your keyless-entry remote or smart key to harsh elements - especially water.
• Obtain a spare key and store it in a safe location for emergency use only.

End of AAA article.  Article source: [tidewater.aaa.com]

For a full selection of vehicles with smart key capabilities contact Checkered Flag at (757)687-3447.  Need more help with your smart key or vehicle transponder?  Contact our Checkered Flag Norfolk or Virginia Beach automotive service departments at (757)490-1111.