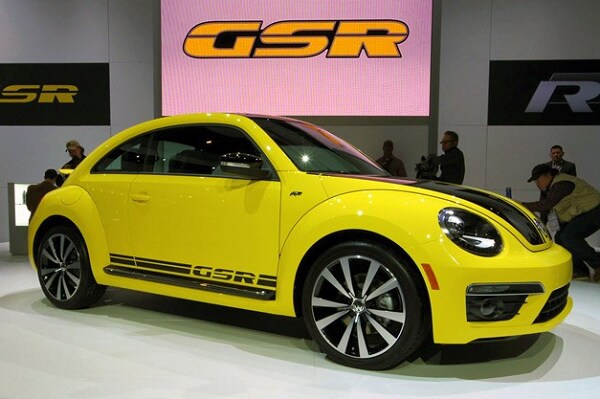 Get ready to start your engines,folks.  The
Yellow Black Racer Volkswagen Beetle
is on its way back to the road this fall.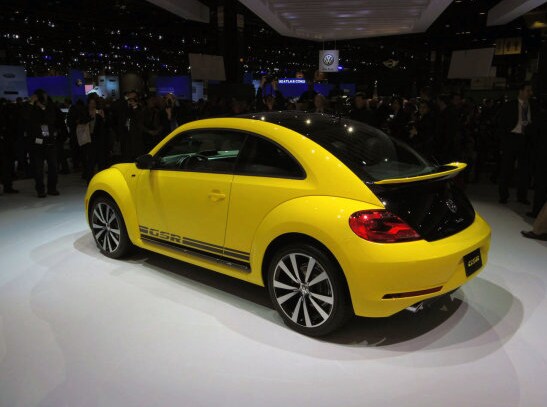 2014 Volkswagen Beetle GSR is black and yellow, black and yellow
By  Jeremy Korzeniewski
Way back in 1973, Volkswagen decided it was high time to take the loveable air-cooled Bug racing. No, it wasn't painted in Herbie colors – Volkswagen called its sport-tuned machine the
Beetle GSR
, "Gelb Schwarzer Renner" or "Yellow Black Racer." Hence, the somewhat shocking paint scheme.
VW is bringing its sporty black and yellow Beetle back for 2014, and you can see live photos of it above. It's got a 210-horsepower turbocharged 2.0-liter four-cylinder engine under the hood (that'd be the hood up front, unlike the car's forebear), and a six-speed manual or DSG automatic transmission sends those ponies to the front wheels. Note that this car's output is up 10 horses on other turbo VWs, and the Jetta GLI and Beetle Turbo for 2013. The 0-60 run takes 6.6 seconds, and top speed is limited to 130 miles per hour.
Besides the in-your-face black and yellow paint, the GSR is outfitted with a large rear spoiler and 19-inch wheels shod with 235/40 tires. The bee-like hue carries over inside, with yellow stitching on black leather. Only 3,500 will be produced, each with its own unique plaque. Pricing has not yet been announced.
End of article.
There will only be a limited number of the
2014 VW Beetle GSR
s available this coming fall.  To have the best chance of getting your name on one, contact
Checkered Flag Volkswagen
for a reservation request.  Call (757)687-3447 for Volkswagen reservation details or for more information about any of our
Virginia Beach Volkswagen
Beetles.   
Article and image source: [autoblog.com]