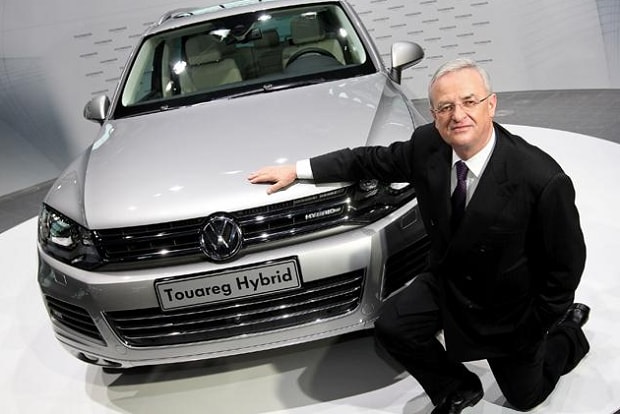 Sales of vehicles seem to be on the rise overall, but those that have a European market are fighting to continue to increase for 2013.  With the European markets at a 23 year low,
VW's CEO
, Martin Winterkorn has shown his support for company growth and has asked for a pay cut. 
He has asked for several $Million dollars US to be taken from his pocketbook going into 2013.

VW, Daimler CEOs take pay cuts in 2013, GM's Akerson stays the course
By Jeffrey N. Ross
Amidst slow auto sales in Europe, top executives at both Volkswagen and Daimler AG will be receiving pay cuts in 2013, which comes at the same time as conflicting reports of a possible pay increase for General Motors CEO Dan Akerson (right). According to Automotive News Europe, VW CEO Martin Winterkorn (center) and Daimler CEO Dieter Zetsche (left) are set to make less this year, but while a number of reports (including Automotive News) suggested that GM has requested a pay increase for Akerson, a statement from GM provided to USA Today makes it clear a raise is not forthcoming.
Winterkorn will take a of hit of three million euros (close to $4 million) but will still finish the year making almost $20 million. ANE says that Winterkorn suggested his own pay cut earlier this month, and other board members will also see a lower salary this year. Just a couple days after a three-year contract extension was announced for Zetsche, it's being reported that his pay will drop by a half million euros leaving him with an annual income totaling 8.15 million euros (or around $10.6 million); Daimler will also be reducing the bonuses paid out to its eight board members.
As for Akerson's situation, this is where things get dicey. Yesterday, AN reported that GM would be raising its CEO's salary from $9 million up to $11.1 million, but GM was quick to deny that information, saying that the $11.1 million figure is actually the entire tally of Akerson's compensation package for 2012. Akerson's pay for 2013 will remain at $9 million (minus, we presume, any other forms of compensation), well below that of his Big Three rival CEOs, Alan Mulally and Sergio Marchionne, who both make more than double what Akerson makes.
Source: [
autoblog
]
With the request of such companies as
VW
, while facing budget cuts and a decline in Europe, it makes
Checkered Flag VW
proud to have leaders that value the overall well being of the company, over their individual potential gain.  The company is going to grow in strength, starting from the top.
I know it is no consolation to his bank account, but Good Job Winterkorn.
For more information about the
VW brand
, available
VW vehicles
at
Checkered Flag VW
(your
Virginia Beach
source for
all things VW
), or other
vehicles sold by VW
, give
Checkered Flag VW
a call today at (757) 687-3447.