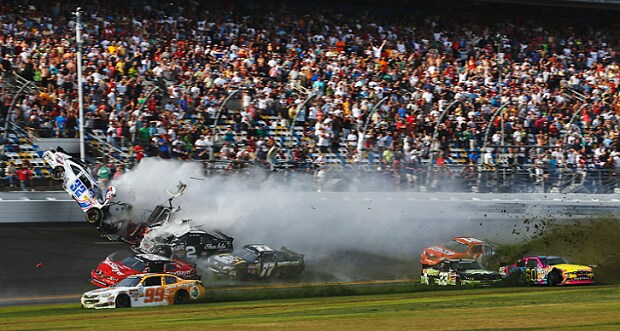 Saturday was a terrible day for NASCAR with Kyle Larson's accident.  The crash has made many wonder about the risk associated with being a fan of racing as there are speeding bullets racing by you at unimaginable speeds.  That is a risk that up to now, the followers have been willing to take.

Since the wreck, that left 30 injured as half a race car flew into the stands past barriers, many are wondering if NASCAR officials will do anything to increase safety at the events.  Some have given gruesome commentary of the event placing huge blame on NASCAR.  Others chuck it up to racing, and the nature of the sport.

It makes you think about the sport, or any sport and the safety responsibility.  What is that line that has to be drawn and if that line is there, does it take the fun out of the sport?  NASCAR has speeding mounds of metal that bump into one another to accomplish a first place standing.  That speeding and bumping has cost many their lives and the fans have been willing to watch, support and continue to attend the races with those potential risks.

Do you think that the sport should be more regulated?   Are they doing enough to protect the fans and the racers?  After major crashes these questions always get asked.  After the death of Dale Earnhardt there were many that demanded stronger regulations and they got what they asked for.  Racers now are more protected.  Should the same precautions be taken for the onlookers?

Checkered Flag is watching and wondering about the future of NASCAR safety.  Best wishes to all from Checkered Flag Toyota as all those affected by the accident are healing. 

Checkeredflag.com will keep you posted on all the NASCAR news as it unfolds.