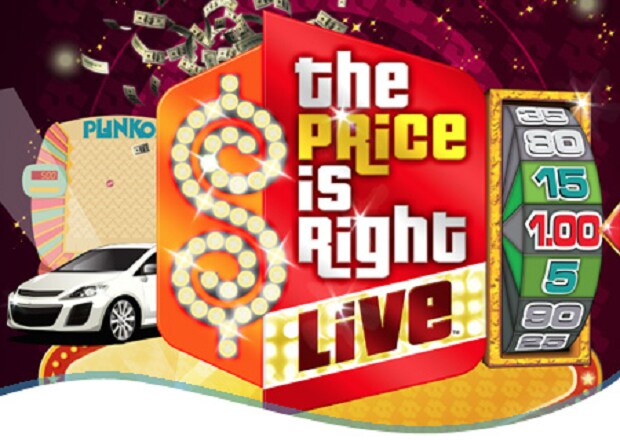 Source: [fergusoncenter.cnu.edu]
This weekend might just be my chance, or the chance of any other
Hampton Roads
resident to hear those crazy words "Come On Down."  If any Checkered Flag fans want to come down to the Ferguson Center for the Arts the could see a live filming of the show-"The Price is Right."  The famed show now starring Jerry Springer has made its way to
Newport News
!
Take a spin on 'Price is Right' with Jerry Springer
By Will Harris
Virginian-Pilot correspondent
© February 8, 2013   
If you've ever watched "The Price Is Right," there's a strong chance you've wondered at some point during the show, "What would it be like to spin the Big Wheel?"
Well, I can tell you: It's heavy. Really, really heavy.
Now, I've never been a contestant on the show, but as a member of the Television Critics Association, I was invited to the set of "The Price Is Right" last summer. I might not have walked away with cash and prizes - heck, I didn't even get a lousy copy of the home game - but I did at least get the opportunity to spin the Big Wheel, and I can tell you from personal experience that just trying to get that behemoth to spin all the way around is enough to give anyone a sore shoulder.
Thankfully, when "The Price Is Right Live!" comes to the Ferguson Center for the Arts in Newport News on Saturday, contestants won't have to put quite as much effort into their spins as I did.
"I don't know how the weight of our traveling wheel compares, but it's a little bit smaller," said Jeff Palmer, executive producer of "The Price Is Right Live!" "That said, it's still huge and heavy, so there'll still be some of the same effect. Our set is an exact replica of the TV show, though, so although it might be a little bit smaller, it's still identical in design to the set used every day by (host) Drew Carey."
"The Price Is Right" stage show has been a staple in Las Vegas for seven years, with an additional version in Branson, Mo., but the touring version of the show is a relatively recent development.
The host of "The Price Is Right Live!" varies by location, depending on availability. When the show stops in Newport News, the man holding the microphone will be talk-show host Jerry Springer.
"Everybody gets a name tag, everybody who wants to register to potentially be called to 'come on down' fills out a card at the entrance when they come in, and then they go into the running," Palmer said of the live show. "All of the contestant selection is absolutely random."
The goal of "The Price Is Right Live!" is to give as many people as possible a chance to experience the thrill of the game show. As such, a few changes have been made to the proceedings.
Four new contestants will be selected each time to "come on down" from the audience and offer the closest bid to the actual retail price of a prize, without going over.
In addition, new contestants will be selected to spin the Big Wheel and to participate in the Showcase Showdown, as opposed to previous game-winners.
"We call out at least 50 names during the show, and everyone whose name gets called gets a prize," Palmer said. "We've got major appliances, trips, interesting items that come out for one bid... thousands of dollars worth of prizes are available to be won at every show."
Does the phrase "a brand new car" come into play?
"You bet it does," Palmer said, laughing. "But we don't give it away every show, of course. You actually have to win it."
Source: [
Hamptonroads.com
]
The only other place that you can feel that you have won so bountifully is if you take a drive down to
Norfolk
and come into
Checkered Flag Honda
.  With the great selection and all the amazing deals you will feel like you have won the jackpot. 
Come on Down
Checkered Flag Honda
fans and experience the winning feeling at
Norfolk's Honda dealer
.  Give them a call now at (757) 687-3447 to set up your winning experience today.