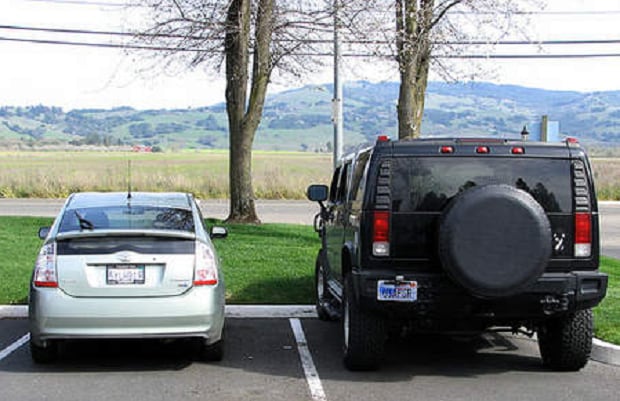 Source: [http://blogs.lctmag.com]
Checkered Flag Toyota
does not worry about gas prices as much as most dealers.  Why is that?  Because they sell some of the most
fuel efficient cars
in the world, it is often a forgotten evil to think about gas prices. 
Checkered Flag Toyota
customers who own or are purchasing the
Prius
have not had to seriously think about gas prices for as long as they have been owners.  For those of us out there not quite that lucky it is an ever present evil.  With gasoline prices fluctuating anywhere from $2.99 a gallon to over $3.60, it makes it hard not to fixate.  That is a lot of pocket jingle.
Well, some recent research has shown that those of us not so lucky as to own a
Prius
or one of their other
Hybrid
cousins, might be in luck.  Looks like
gas prices might be coming down
.  They won't be where they were in 1980, but they will be lower, and my pocket book is very happy for that.
US gas prices to fall over next two years
By Danny King
US gas prices
are expected to fall over the next couple of years as
fuel consumption
levels off, indicating that vehicle fuel-economy gains may have positive long-term effect on everyone's wallets.
Regular fuel prices
, which on average rose 2.8 percent in 2012 to $3.63 a gallon, will fall to $3.55 a gallon this year and will decline another 4.5 percent to $3.39 in 2014, the US Energy Information Administration (EIA) says.
And while the vehicle-buying public isn't getting any smaller, fuel consumption is expected to remain basically unchanged at about 8.72 million barrels a day through 2014.
Either way, the percentage of an average household's budget spent filling up neared a 30-year high last year, so any news of a fuel-price decline is good news for consumers. So far this year, gas prices have risen more than 20 cents a gallon to about $3.55, according to American Automobile Association.
Last year, new cars sold in the US had a record-high fuel economy of 23.8 miles per gallon, up 6 percent from a year earlier, according to the University of Michigan Transportation Research Institute (UMTRI).
Source: [
autoblog
]
This news comes as a breath of fresh air to those of the population not lucky enough to partake in the savings that are available at
Virginia Beach's premier Toyota dealer
.  Purchasing a
Hybrid vehicle
on top of the lowered gasoline prices would ensure that your neighbors are green with envy as you frequent the pump about 1/3 as often as them, and then you are paying less with each fill up also.
Come in to
Checkered Flag Toyota
today.  Don't wait for the gas price drop, take advantage of
savings
today. 
Hampton Roads Toyota
has a great inventory and can help you accomplish your
budget needs
.  Call them today at (757) 687-3447 to schedule your test drive today.