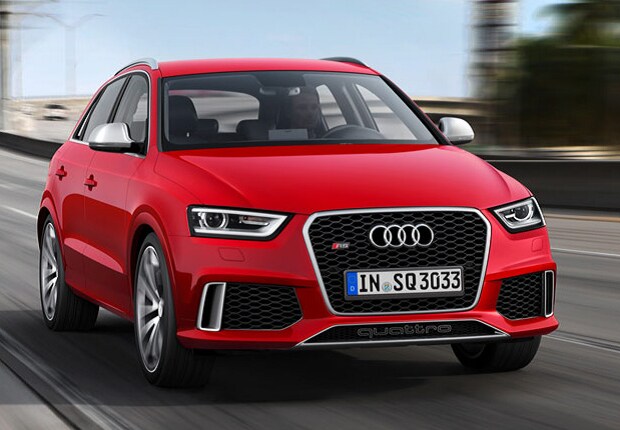 Source: [autoblog.com]
The 2014 Audi RS Q3 teaser information that has been coming out by Audi is almost too much to bear.  This stylish CUV (Crossover Utility Vehicle) promises to deliver on all that Audi is known for with the convenience that having a new sized CUV will offer to the Hampton Roads driver. 

Audi released a few pictures of this sporty vehicle before the UK and Germany release, the US has not been as lucky.  No word has been given as to the timeline on US delivery, but checkeredflag.com will keep everyone up to date. 

2014 Audi RS Q3 breaks out ahead of Geneva reveal
By Jeffrey N. Ross

Ahead of its big reveal next month at the 2013 Geneva Motor Show, Audi has released a handful of images and plenty of details for the all-new RS Q3. As the first-ever crossover from the marque with RS branding, this will be the fourth RS model to go on sale this year after the RS5 Cabriolet, RS6 Avant and the RS7, and while UK and Germany sales have been confirmed, there is no word as to whether we can expect this high-performance CUV to be available in the North America.

Sharing its 2.5-liter turbocharged and direct-injected five-cylinder engine with models like the TT RS and the RS3 Sportback, the 2014 Audi RS Q3 should deliver on performance, as it pumps out 310 horsepower and 309 pound-feet of torque (peak torque starting at just 1,500 rpm and running up through 5,200 rpm). This potent engine is paired to Audi's seven-speed S tronic transmission and Quattro all-wheel drive. Despite its small stature, the RS Q3 still tips the scales at just over 3,800 pounds. Even so, performance figures are still impressive with a limited top of 155 miles per hour and a stated 0-62 mph time of 5.5 seconds. The RS Q3 also gets a sport suspension that has been lowered by 25 millimeters, launch control and weight-saving front rotors with a wave-cut and cross-drilled design gripped by massive eight-piston calipers.

Looking almost identical to what we saw last year in concept form in China, the 2014 RS Q3 looks just as sporty as its spec sheet suggests that it is. Up front, the fascia gets massive air intakes with silver vertical accents and, like other recent RS models, the Quattro emblem is written across the lower air intake. The silver accent motif also continues on the grille surround, mirror caps, roof rails and rear diffuser trim, and the oval exhaust outlet is also an identifying feature of Audi's RS cars.

Stepping inside the RS Q3, we find more signature RS elements such as a flat-bottomed steering wheel, gray instrument gauges with red needles and upgraded accent trim like the standard piano black (or optional aluminum and carbon fiber) and sport seats highlighted by contrasting cross stitching.

What do you think, should the RS Q3 come here?

Source: [autoblog]

While we US Audi lovers sit and wait on baited breath, the Europeans get to partake in some of our Audi temptation.  I feel like a little child wanting to pout because I don't get to see the newest toy on the market. 

Checkered Flag Audi, Virginia Beach's premier Audi dealership has much inventory available, minus the 2014 RS Q3.  With the information trickling in, checkeredflag.com will keep you on point with the information and coming in to Checkered Flag Audi will ensure that a knowledgeable salesperson will send you info as it comes out.  Give them a call today at (757) 687-3447 to schedule your visit today.