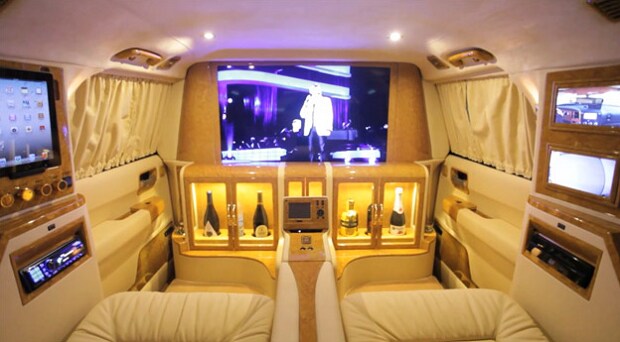 Doesn't safety come to mind when you think of any model of
Toyota
? The word safety is practicaly synonymous with the brand.  What if the driver needed to be protected from gunfire, bombs, etc.?  This is something that
Toyota
outsources a bit for, but when they do it, they go big.
Recently a
2013 Toyota Sequoia
was decked out, for an unknown recipient, with all the luxury that one would expect to be in a million dollar vehicle.  The bonus part to this vehicle is it is completely inconspicuous.  I am going to look at every
Toyota Sequoia
a bit differently now.
Armored Toyota is a pleasure palace in disguise
By Zach Bowman
We've seen our fair share of kitted out
armored vehicles
, from bullet-proof BMW models to Land Rover SUVs that can take a land mine. But
Lexani Motorcars
has recently put its armored car experience to work on a
Toyota Sequoia
. Why? The company isn't saying, but we imagine a
Toyota
is somewhat less conspicuous than a high-dollar German sedan. With sufficient armoring on five sides to protect the machine from 7.62x51 mm rifle rounds and under body plating stout enough to keep the occupants safe from both grenades and land mines.
But this isn't some brutal tank. Inside, the
Sequoia
serves up leather seating, wine coolers galore, a massive, retractable LCD flat screen (which doubles as a cabin divider) and beautiful wood trim. Rear passengers can see exactly what's going on outside thanks to a bevy of discreet cameras, and most of the onboard electronics look to be controllable via an iPad. Check it out below for a closer look.
Source: [
autoblog.com
]
Who out there is with me in inspecting every
Toyota Sequoia
that pulls up next to you at a stop light in Hampton Roads?  I am beyond curious as to who the mystery passenger is, and if it is even going to live in the US after completion.
The details that
Toyota
puts into every model should make the transition to luxury armored vehicle quite a bit easier.  Even driving around in my
Toyota Camry
can feel pretty luxurious when I look around the cabin and see all the features that are included. 
For more information about the
Toyota Sequoia
from
Virginia Beach's Toyota
dealer, call
Checkered Flag Toyota
today at
(757) 490-1111
.  Owning your own luxury vehicle can be just a phone call away.