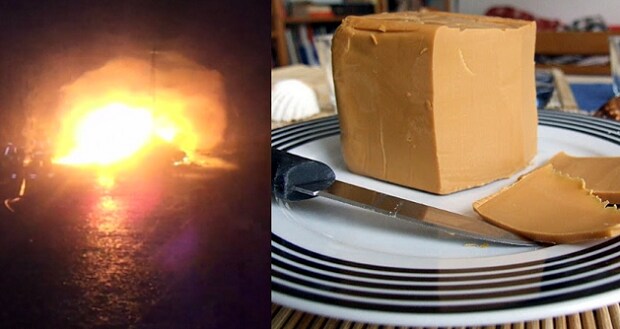 Checkered Flag
works tirelessly to bring you the hotest news.  In that persuit we brings you a hot story coming from
Norway
.  On Thursday of last week there was a
cheese fire
that brought city roads to a standstill.  One of their delicacies, a brown
cheese, caught fire
and was finally extinguished on Monday.  The fire burned for days due to the high fat content in the cheese.  The roads are being cleaned and will be closed for the next week.
Norway Cheese Fire: Road Tunnel Closed Near Narvik From Brunost Blaze
OSLO (Reuters) - A
truckload of burning cheese
has closed a road tunnel in Arctic Norway for the last six days.
Some 27 metric tons of
flaming brown cheese
(brunost), a Norwegian delicacy, blocked off a three-km (1.9 mile) tunnel near the northern coastal town of Narvik when it caught fire last Thursday. The fire was finally put out on Monday.
"This high concentration of fat and sugar is almost like petrol if it gets hot enough," said Viggo Berg, a policeman.
Brown cheese is made from whey, contains up to 30 percent fat and has a caramel taste.
"I didn't know that brown cheese burns so well," said Kjell Bjoern Vinje at the Norwegian Public Roads Administration.
He added that in his 15 years in the administration, this was the first time
cheese had caught fire
on Norwegian roads.
Berg said that no one was injured in the fire, only one other vehicle was in the area at the time and that the accident had luckily happened close to one of the tunnel's exits.
The tunnel will closed for repairs for at least a week.
Source: [
huffington post
]
I thought this story would interest the minds of the big thinkers out there.  A cheese fire is not something that you hear about every day.  The Norwegian populous must be devastated.  Here in
Virginia
we can barely drive if there is a snowflake coming down from the sky, I could only imagine what would happen if flaming cheese were to do so.
Checkered Flag
is always on point, giving you the latest and most pressing news.  Stay tuned to
checkeredflag.com
for more information about
how to service
a cheese covered car, or the
products
one could use to clean fiery cheese from the
exterior or interior of a vehicle
.