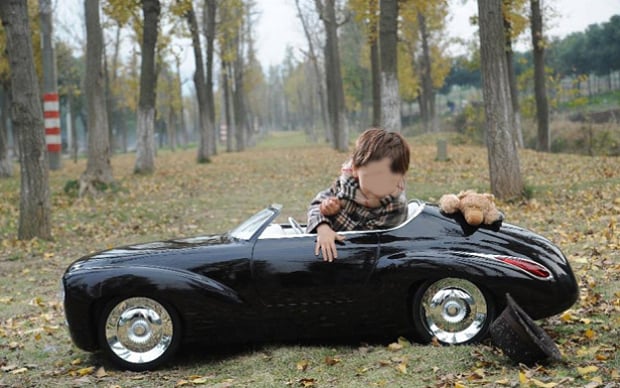 **See-the car even comes equipped with its own Fedora hat and teddy accessory.**
My dad is amazing!  I thought that he could do anything. There is one dad out there that seems to have him beat though.  There is a father in China who has engineered his son a
mini car
.  This vehicle comes equipped with all the bells and whistles and is powered by an
electric motor
.  I had a power wheel growing up and I was the coolest kid on the block-this kid has me whooped.
Engineer father builds son amazing electric toy car
By Zach Bowman
We had some pretty entertaining automotive toys growing up, but trust us when we say we had nothing quite like this. A father in China whipped up an amazing mini electric car for his son, complete with a custom frame, disc brakes, fully functional suspension and a rear differential. With a carbon fiber body and LED light system, the machine is a step up from your typical Power Wheels. Hell, it's a step up from most production vehicles on the road. An electric motor is mated to a small transmission just behind the seat.
What kind of dad whips up something like this in his spare time? One who engineers custom mini cars for a living? In this case, Pops started with a simple CAD drawing before bringing the little EV to life, and he says buyers pay as much as a BMW 3 Series to get their kids in equivalent little runabouts. In this case, the builder says he has around $15,000 in materials alone. Just remember kids, all things are possible with time and money.
Source: [
autoblog.com
]
The fact that the father does this stuff for a living makes it a little less impressive, but I think the most expensive toy I ever received as a kid was $100.  That is a ton of inflation!  What is next for this kid?  Will he get a
BMW 7Series
for his 16th birthday?  He could only be so lucky. 
For those looking into a competition of sorts for Dad of the Year honors,
Checkered Flag BMW
is available to help you out with that.  Come by
Virginia Beach BMW
today with your little tyke and test drive one of the amazing
in stock vehicles
.  Give them a call at (757) 687-3447 and set up a test drive for you and your youngster.