Save the date,
Checkered Flag
fans!
We have another opportunity to do some good for our community, while enjoying a delicious meal.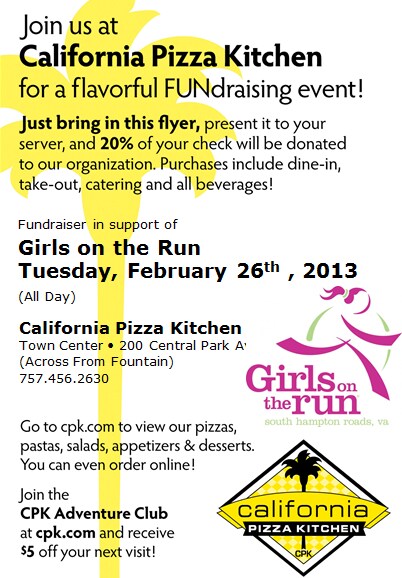 Printable flyer will be available on Checkered Flag.com shortly.  Monetary contributions are being accepted presently through Girls on the run Solemates.
Remember, they will be accepting the flyers for take-out orders, as well. 
If you would rather make a monetary contribution, choose the following link:  
Girls on the run Solemates contribution
Girls on the run Program
Objective
The objective of Girls on the Run is to educate and empower girls at an early age in order to prevent the display of at-risk activities in the future. At risk activities include substance/alcohol use, eating disorders, early onset of sexual activity, sedentary lifestyle, depression, suicide attempts and confrontations with the juvenile justice system.
Girls On Track
Girls on the Run is the name of our organization, but we have two programs:
Girls on the Run — for 3rd-5th graders
Girls on Track — for 6th-8th graders
The psychological research and principal philosophy behind both programs is the same, yet the depth of processing varies in order to be age appropriate. The Girls on Track middle school curriculum allows for more mature processing around certain topics including eating disorders, internet safety, cyber bullying and tobacco and alcohol use.
Vision

We envision a world where every girl knows and activates her limitless potential and is free to boldly pursue her dreams.
For more
Hampton Roads community outreach
, stay tuned to
Checkered Flag
.com.