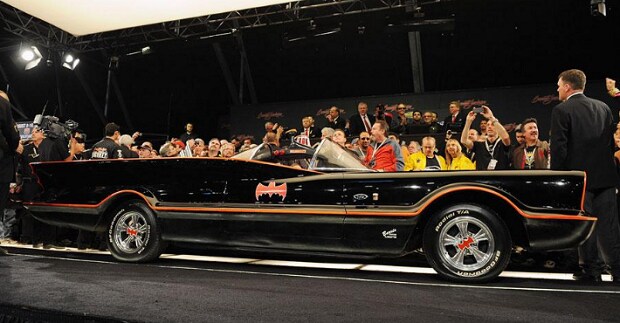 Another year has gone by and the 2013 Barrett-Jackson Auction has come to a close.  Some history was made as works of art in the automotive world rolled into another driveway (or huge warehouse of masterpieces).  There were some definite high points and I am here to give those to you. 

My personal favorite was, of course, the Batmobile.  The car, in my opinion, was a high point as it sold for the most money and was truly cool!  Bringing in over $4,000,000, it was a major contributor to the over 17% increase in sales for this year's auction.  The last time they grossed this much was in 2007. 

Barrett-Jackson Scottsdale 2013 – Auction Results

The Barrett-Jackson Scottsdale Auction 2013 was held January 13-20 at WestWorld of Scottsdale, Arizona, resulting in $108.7 million in gross sales. The total from the 42nd annual auction was an increase of 17% from last year and similar to the record 2007 sale that also generated nearly $109 million in gross sales.

"This has made a mark in history for Barrett-Jackson, both in numbers and in showmanship. There has never been an auction as entertaining or as personal as this one," said Craig Jackson, Chairman and CEO, Barrett-Jackson. "We love that enthusiasts of all kinds have contributed to this sense of charity and community. With a start like this, we can only expect big things for the rest 2013."

The top result at the 2013 Barrett-Jackson Scottsdale auction went to the original 1966 TV Batmobile, offered by renowned customizer George Barris, that sold for $4,620,000, followed by the 1947 Talbot-Lago T-26 Grand Sport that brought $2,035,000, a record for a Talbot-Lago. Another record went to the 1956 Chrysler Diablo Concept Convertible that sold for $1,375,000, the top price ever paid for a Chrysler concept vehicle. The final results from the Salon Collection consignments totaled $29.2 million, which included the ex-Clark Gable 1955 Mercedes-Benz 300SL Gullwing Coupe at $2,035,000 and the 1934 Duesenberg J Murphy LWB Custom Beverly Sedan for $1,430,000.

This year also brought the largest offering of Shelby vehicles at one event in honor of one of Carroll Shelby. 48 Shelby automobiles were auctioned off at No Reserve including a 1966 Shelby GT350 Fastback which sold for $225,000, a 1965 Shelby GT350 Fastback which sold for $220,000.00 and a 1967 Shelby GT500 Fastback which sold for $175,000.

The 2013 Scottsdale sale set two records with the largest number of 'No Reserve' vehicles offered at one auction, as well as the largest-ever Barrett-Jackson auction measured by the number of cars sold.

Beyond the vehicle sales, a record number of committed attendees from around the world included buyers, consignors and enthusiasts. Despite the unusual cold temperatures in Scottsdale, 300,000 attended 2013 running of the Barrett-Jackson Scottsdale event.

The Scottsdale charity vehicles helped to raise over $5 Million for charities that benefit children, military personnel, medical research and community support. As a result of the company's 42 years of dedication to philanthropy, Barrett-Jackson has raised a total of over $53 Million to-date. Scottsdale highlights include the sale of the first production Chevrolet Corvette Stingray which sold for $1,000,000 to benefit Detroit-based College for Creative Studies. Also, a 1969 Ford Bronco Custom SUV sold for $500,000 to benefit the Armed Forces Foundation.

"We are proud and honored to be amongst some of the most unique and impressive vehicles that have ever been offered at Barrett-Jackson, as well as support some of our nation's most important causes," said Steve Davis, President of Barrett-Jackson. "No two auctions are ever the same, and Scottsdale proves that the quality and diversity of our collections only intensify over the years. We are thrilled that again this year, our charitable sales raised millions, including $500,000 to the Armed Forces Foundation during our Sunday offering, a cause very close to my heart."

Barrett-Jackson Scottsdale 2013 – Top 10 Auction Results
1. 1966 Batmobile – $4,620,000
2. 1955 Mercedes-Benz 300SL Gullwing Coupe – $2,035,000
2. 1947 Talbot-Lago T-26 Grand Sport – $2,035,000
4. 1934 Duesenberg J Murphy LWB Custom Beverly Sedan – $1,430,000
5. 1956 Chrysler Diablo Concept Convertible – $1,375,000
6. 1971 Plymouth Hemi 'Cuda Convertible – $1,320,000
6. 1929 Isotta Fraschini Tipo 8A SS Castagna Roadster – $1,320,000
8. 1949 Delahaye Type 175 Saoutchik Coupe De Ville – $1,210,000
9. 1968 Chevrolet Corvette L88 Owens/Corning Race Car – $1,100,000
9. 2014 Chevrolet Corvette Stingray Coupe – $1,100,000

Source: [Sports Car Digest]

There were many vehicles beyond these few record breakers that made quite an impact during this year's auction.  A few not mentioned here that I feel should take an "Honorable Mention" seat are: a 1986 Porsche 959 Prototype.  This car is one of two running prototypes and one of only four survivors. The Porsche 959 is one of the greatest sports cars ever to be assembled and touch the black asphalt which covers the roads on which the 959 is an undisputed champion.  The second vehicle that should make that "Honorable" list is a vehicle that did not sell.  A 1968 Shelby EXP500 Ford Mustang failed to sell during the auction.  The auctioneer had bidding up to $1.8M and it failed to land in a lucky driveway.  I can only imagine the reserve on that vehicle to have that be the case.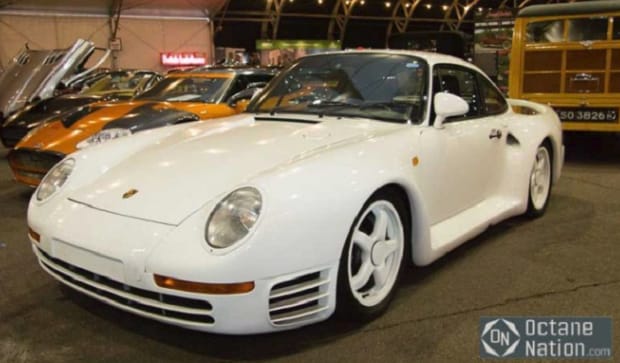 Source: [octanenation]

The Barrett-Jackson has ended.  The new owners of the masterpieces sold are happy and no doubt glowing while driving around Las Vegas in their new dream cars.  I will just keep hoping and dreaming. 

Checkeredflag.com promised to keep you up to date on the Batmobile results and we did not disappoint.  Like predicted the vehicle had quite an impact.  Checkered Flag will keep on the lookout for any more newsworthy vehicles.  Although the Porsche 959 did not sell, it is still a winner in our eyes.  I will be on the lookout for a Hampton Roads owner come next auction.  Let's bring that baby home to Checkered Flag Porsche and have it serviced and maintained by the professionals at Virginia Beach's premier Porsche dealership.