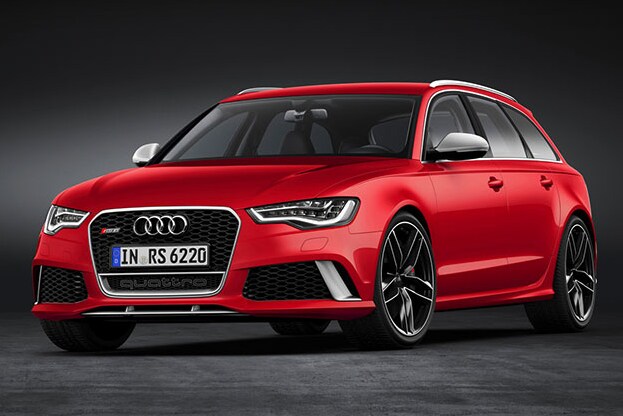 If I had to pick one thing that really surprises me in the auto business, it would be how much people LOVE wagons.  I don't know if it has something to do with the current car-buying generation's nostalgia for 70's and 80's style road trips, or just a need for space without fuel efficiency compromise.  But, car buyers get crazy excited over wagons.  And, the new
2013 Audi RS6
-it's sure to please the people. 
Your 2013 Audi RS6 has arrived
By  Jonathon Ramsey
The
2013 Audi RS6 Avant
, fittingly red with rage in its press photos, is here. Its engine bay holds the 4.0-liter TFSI V8 with two twin-scroll turbochargers and cranks out 560 horsepower and 516 pound-feet of torque – that latter figure available from just 1,750 rpm. This gets people and their cargo from 0-to-62 miles per hour in 3.9 seconds. Top speed on the standard wagon is 155 mph, while wagons fitted with the Dynamic package are able to get to 174 mph and those with the Dynamic Plus package go all the way to 190 mph.
It's about 220 pounds lighter than the previous generation
RS6 Avant
and fitted with stop/start and cylinder deactivation, so combined fuel economy is 24 miles per gallon – that's 40 percent better than before. Shifting happens via an eight-speed tiptronic with improved shift times and a long eighth-gear ratio to boost highway mileage.
The adaptive air suspension keeps things comfy, while on the other side the chaperone of performance is Quattro with torque vectoring, dual-mode exhaust with switchable flaps and six-pot calipers on the front rotors. Things can be taken further with the optional sport differential, sport suspension with Dynamic Ride Control, dynamic steering, carbon fiber ceramic brakes, a sport exhaust and 21-inch wheels.
The RS6 shall be known by gnarly aero mods outside, set off by matte aluminum and high-gloss black trim, the large rear diffuser and two oval tailpipes. Inside will be lots of black, set off by red and white accents, heaps of carbon fiber and aluminum-look trim, diamond quilting on the seats and new treats like the Formula-One-style shift lights. And oh by the way, it holds nearly 60 cubic feet of your stuff behind the rear seats.
End of article.
Article and image source: [autoblog.com]
I will be sure to let you all know as soon as the first Audi RS6 hits our
Virginia Beach Audi
lot.  In the meantime, check out the currently available
Audi wagon
, the
2013 Audi Allroad Wagon
here at
Checkered Flag Audi
.  Call (757)490-1111 to set up your test drive today.