Fuel efficiency
is at the top of everyone's priority list with the impending
Holiday travel
.  With the prices bobbing anywhere from just under $3 a gallon to almost $3.50, prices and saving is a hot topic.  With that thought in mind, it seems that
Honda
is once again reading our minds.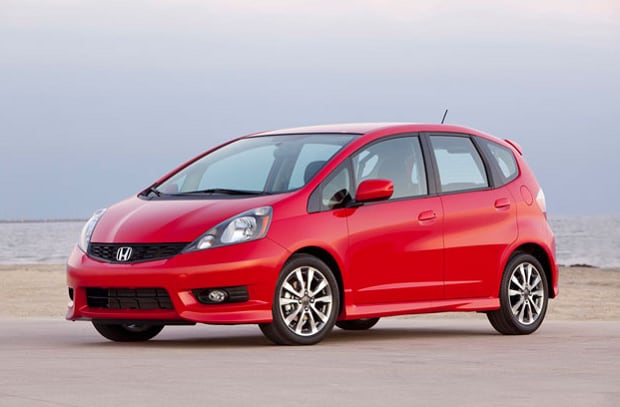 Source: [autoblog.com]
The new
Honda Fit
, with several models in queue, has just what the doctor ordered with
fuel efficiency
galore and lots of room for a family's needs. 
Honda
wishes to expand the sales of this model by bringing more options to the table.  There will be a
crossover
, a
sedan
, and much more.
Honda Fit getting 3 new variants, including sedan
By Jeffrey N. Ross
The
Honda Fit
might be a small car, but it is going to play a big role in Honda's goal of increasing sales by 18 percent by the end of the 2017 fiscal year. In this time, production of the subcompact will commence in Mexico, and sales of the car are expected to swell to 200,000 units annually thanks to an
expanded model lineup
.
Joining the current hatchback model, Honda is planning to use the Fit as the basis for a new sedan and crossover, although it isn't clear whether or not the cars will wear the Fit nameplate. According to Automotive News, various sources have confirmed that the new bodystyles will be made at the new Mexican plant, but Honda has not yet said if all three models will be on sale in the US. Adding a sedan would allow the Fit to better compete against rival cars like the Ford Fiesta, Nissan Versa, Chevrolet Sonic and Hyundai Accent, while the new crossover would give a unique product in the ever-growing B-segment.
The redesigned Honda Fit goes on sale next year with the new plant in Mexico going on line in 2014. The report says that the "vast majority" of cars built at this plant will be exported to the US.
Source: [
autoblog.com
]
Hopefully the new styles will be available in the US as we are hungry for more of what
Honda
has to offer.  Their ability to mix form with function, creating a beautiful and wonderfully operating little gas sipper never ceases to amaze.
Many will be waiting with baited breath to see what 2014 has in store for this model and whether or not it will grace us with its presence.  Here is hoping-let's all keep our fingers crossed.
For more information about the
Honda Fit
and all the other cars being made by
Honda
, give
Checkered Flag Honda
a call today.  Calling them at (757) 490-1111 will be your first step towards paying less at the pump and riding in style. 
Norfolk Honda
is there for you to accommodate all of your purchase needs.