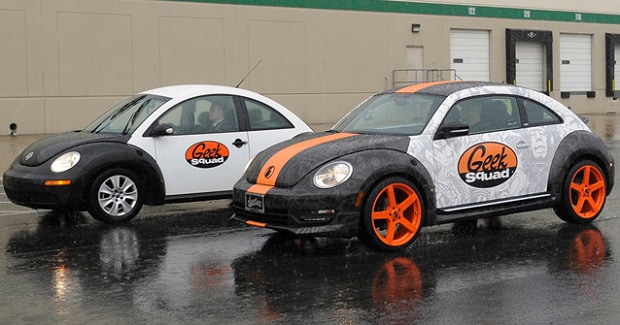 Source: [carbuzz]
The Slug Bug Game is a popular car trip game for my family.  This is the game in which you hit someone and state that you have seen a
VW Beetle
.  It is because of this game, we love passing by any Best Buy location.  The "Geek Squad" cars are ample ammo for this game.  With the newest model of Geeks Squad car, the vehicle will be almost impossible to miss.
West Coast Customs has done a redesign on the old "Geek Squad" car making it really a sight to be seen.  The classic white and black
VW New Beetle
with the orange accents has been kept, but they definitely spiced it up a ton. 
Geek Squad Beetle by West Coast Customs
By Noah Joseph
Best Buy's technicians get a stylish new ride, courtesy of West Coast Customs.
If you've got a tech problem, you can call up Best Buy and book an appointment with the Geek Squad, who will send over a "technician" (that's a nerd with a job) in a VW Beetle to fix whatever you can't figure out yourself. This, however, is no ordinary Geek Squad bug. The Geek Squad commissioned West Coast Customs to build this unique squad-car. But instead of the last-gen New Beetle that serves most of its technicians, WCC went with the more aggressive newer Beetle for this one-off.
Setting it apart from showroom stock, West Coast Customs took a 2.5-liter model and decked it out in a similar livery to the Squad's usual fleet, but with tone-on-tone graffiti graphics for more street cred. It's also got bigger wheels and an interior decked out with cross-stitched seats, logo headrests and a big subwoofer to blast some Rush on the way to the next call. The vehicle will be featured on Velocity's "Inside West Coast Customs" next month, after which it will be displayed at Geek Squad's headquarters in Louisville, Kentucky.
Source: [
carbuzz.com
]
This new "street cred"
Beetle
will definitely get lots of attention.  Here's hoping that the looks sticks.  My family road game will be a lot more entertaining searching out a model much like the
WCC Beetle
.  I think that finding one that looks like the recent redesign should be worth about 5 slugs, instead of the customary one.
For more information on the
VW Beetle
give
Checkered Flag VW
a call today at (757) 490-1111.  Their
parts department
will be a great place to get your
new Beetle
some personal "Street Cred."  Send in pictures to
checkeredflag.com
for us to post pics of your
personal style and VW
.