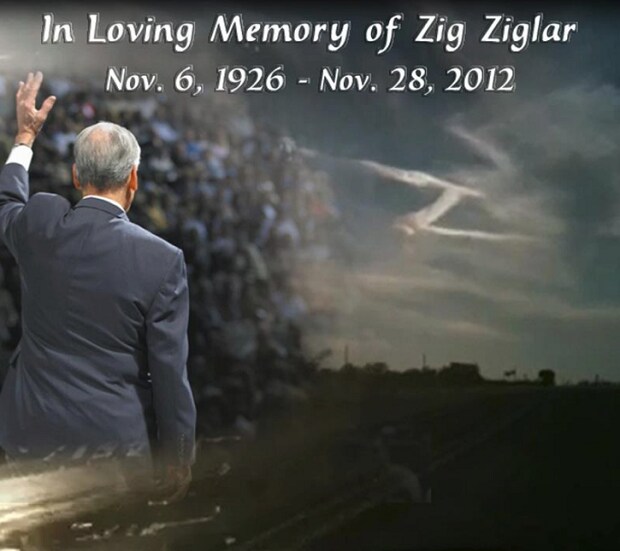 Source: [
ziglar.com
]
Many mourn the loss of one of the world's most motivated people, speaker
Zig Ziglar
.  He passed away today at the age of 86 from a battle with pneumonia. 
Zig Ziglar
was best known for his inspirational speeches and books. 
Thoughts go out to his family and friends from those at
Checkered Flag
in
Virginia Beach
and
Norfolk
.  His words have motivated and molded us into the company that we are today.  Many thanks go to him for his wisdom and teaching.

Motivational speaker Zig Ziglar dies at 86

Motivational speaker Zig Ziglar
has died after a battle with pneumonia, according to his Facebook page.
"Though his time on earth has ended, he is speaking with Jesus now in his heavenly home," read a statement on the page. "The angels in heaven are rejoicing and his family is celebrating a life well lived."
Ziglar's executive assistant Laurie Magers says Ziglar died Wednesday at a hospital in the Dallas suburb of Plano.
Ziglar's speaking career had lasted more than 50 years, the Atlanta Journal-Constitution reports, before he retired in 2010.
He was known for
corporate training
and
motivational speeches
that aimed to improve people's personal lives and careers. His company includes more than a dozen other speakers who advocate "
The Ziglar Way
."
Ziglar has written more than 29 sales and motivational books, including "See You at the Top" and "Over the Top," and has made appearances with U.S. presidents and world leaders, according to his website.
Source: [
foxnews.com
]
Checkered Flag
's very own Christine Knowles expresses her feelings today, "This one really hurts my heart.  Zig Ziglar passed from this world today after a short bout with pneumonia.  His "I really hate my job" talk is one of my all time favorites. What a light in the world he was!"   Similar sentiments are felt throughout the
Checkered Flag
family as he truly motivated and pushed each of us to be all that we could be.  With his books and speeches he will live on and his words will continue to motivate many more generations of people that would not accept defeat and insisted on living life without regret.  The "
Ziglar Way
" will continue.
For more information about current happenings around
Hampton Roads
, stay logged on to
Checkeredflag.com
.