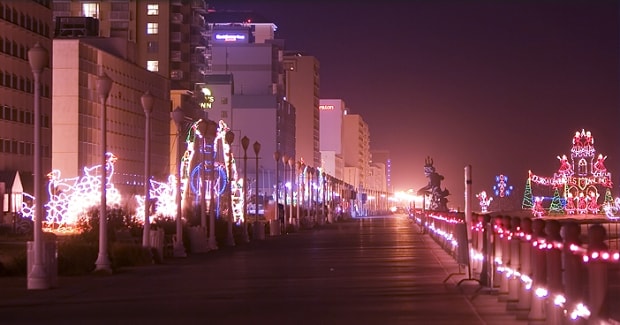 Trying to teach the kids that the holidays mean more than just shopping for presents?
I know many of our
Checkered Flag
fans are already getting into the holiday spirit.  Stores and restaurants are decorated and the local coffee shops are throwing cinnamon into everything.  And, if you've been out and about after dark, you've surely noticed some pretty spectacular holiday light displays.  If you're wondering where to go for the best show, our friends at MyActiveChild.com have got it all organized for you. 
Hampton Roads Holiday Lights Displays
:
Abbitt Planetarium at the Virginia Living Museum- (Newport News) Daily shows 12:30pm Wednesday-Sunday, 3:30pm Saturday & Sunday. Evening show: December 21, 2012 at 7pm Featuring classic holiday favorites like "Rudolph the Red-Nosed Reindeer," modern hits like "Jingle Bell Rock," and unique reimaginings of timeless songs, this is an animated Christmas light display like no other you've ever seen! Cost: $4 plus Museum admission/$2 members (without voucher). Evening shows $6, $3 for members.
Cape Henry Lighthouse Friday Night Lights Holiday Program- (Fort Story) The exterior of the light house is strung with holiday lights each year to form the shape of a grand Holiday tree. Holiday lights will illuminate the interior spiral staircase to the top of the lighthouse. Fridays from 5-7pm through December 2012. Admission: Preservation Virginia members are Free, Adults including Seniors are $5, Children under age 12 are $3 and must be 42 inches tall to climb (see website for additional information and group pricing)
Dominion Garden of
Lights at Norfolk Botanical Garden
- (Norfolk) 2-mile drive through a million sparkling lights bringing the four seasons to life. Price is per car - $15. NBG members $2 discount and there are additional special discounts throughout the week for military, NBG members, Food Lion MVP and more- Cash only at the door. Daily through December 31, 2012.
Downtown Hampton Lighted Boat Parade-(Hampton) December 1, 2012 beginning at 7:15pm on the Downtown Hampton Oceanfront.
Holt Family Lights- (Chesapeake) 501 Youngstown Court Chesapeake, VA 23322. Drive by Mon - Thurs, & Sun 5:15 - 10 pm. Fri & Sat 5:15 - 10:30 pm. Santa, Elmo, Buddy the Elf & Frosty the Snowman will be visiting on Saturdays from 6-8:30pm. Ongoing through Dec 31, 2012
Lynnhaven Mall Light Show- (Virginia Beach) Experience a Pulsating Concert of 50,000 Lights to Rocking Holiday Music! Nightly November 7th through Christmas Eve. Monday – Saturday 5 PM – 9PM on the hour Sundays beginning at 5 PM.
McDonalds
Holiday Lights on the Beach
- (Virginia Beach) 30 Blocks of festive fish, jumping dolphins, frolicking porpoises – all in bright, colored lights against the clear night-time sky, are the stars of McDonald's Holiday Lights at the Beach, a nautical and holiday-themed light display at the Virginia Beach oceanfront! Prices for cars: Monday-Thursday ($10) Friday-Sunday, Thanksgiving and Christmas Day ($15). You can print your $2 off coupon on their website. Ongoing through November 16, 2012-January 1, 2013.
Million Bulb Walk (Norfolk)- January 1-6, 2013 5:30 – 8:30 pm. Cost $10 per person ($8 per member), 2 and under free. Walk through 2 miles of spectacular lighted displays at Norfolk Botanical Garden.
Newport News Celebration In Lights- (Newport News) Drive through two miles of holiday light displays with over 800,000 individual lights creating animated holiday and fanciful scenes. $10.00 per car, $60.00 per bus. Sunday-Saturday 5:30-10pm from November 22, 2012 - January 1, 2013.
Yorktown Lighted Boat Parade- (Yorktown) December 1, 2012 from 6-8pm on the Yorktown waterfront.
Information source: [myactivechild.com]
Image source: [beachstreetusa.com]

For more
Hampton Roads holiday events
, stay tuned to the home of your jolliest
Hampton Roads used car
stores,
Checkered Flag
.com.