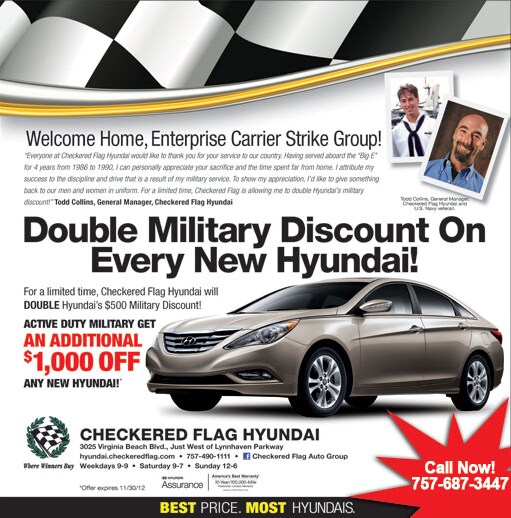 Checkered Flag Hyundai would like to welcome home the Enterprise Carrier Group with a special discount.
Welcome Home, Enterprise Carrier Strike Group!

"Everyone at Checkered Flag Hyundai would like to thank you for your service to our country.  Having served aboard the "Big E" for 4 years from 1986 to 1990, I can personally appreciate your sacrifice and the time spent far from home.  I attribute my success to the discipline and drive that is a result of my military service.  To show my appreciation, I'd like to give something back to our men and women in uniform.  For a limited time, Checkered Flag is allowing me to double Hyundai's military discount!" –Todd Collins, General Manager, Checkered Flag Hyundai

For more information, including a full list of Virginia Beach Hyundai specials, call Checkered Flag Hyundai at (757)687-3447 or (757)490-1111.