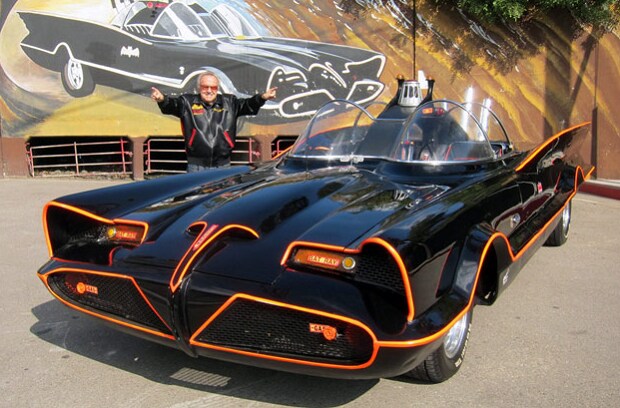 Source: [autoblog.com]
Say it isn't so, the
Batmobile
could be mine?  I have found, compliments of
Barrett-Jackson Auctions
, the perfect Christmas gift for the child in each of us.  This gift is perfect for the perpetual kid in every single person cool enough to remember the original show.   The
Batmobile is going up for auction
through Barrett-Jackson in January.  The current owner,
Mr. George Barris
, has been the owner since 1965 and has added such cool gadgets as a Batphone, batscope and Bat Ray Projector. 
I know that the child in all of us wishes that the vehicle could be ours.  I would like to have this car almost as much as I would like to have a piece of Kryptonite, or one of Catwoman's whiskers.
George Barris to sell original 1966 Batmobile at Barrett-Jackson
By Jeremy Korzeniewski
Holy celebrity auction, Batman! The one and only original Batmobile, constructed by celebrity customizer George Barris, is slated to go up for auction at the Barret-Jackson auction in Scottsdale, AZ, on January 19, 2013.
While a great many replicas and copies of the Batmobile have been bought and sold, this particular machine has been owned by Barris since 1965, when he purchased the car on which it is based, the Lincoln Futura Concept from 1955, from Ford for the sum of one dollar. Money well spent, we'd say.
When Barris was approached to build the original Batmobile, he was reportedly given just 15 days and $15,000 to make it happen. With that kind of deadline, the Futura Concept, with its unique double-bubble roof and Ghia-styled bodywork, was an ideal starting point.
Barris added such iconic bits and pieces as "a nose-mounted aluminum Cable Cutter Blade, Bat Ray Projector, Anti-Theft Device, Detect-a-scope, Batscope, Bat Eye Switch, Antenna Activator, Police Band Cut-In Switch, Automatic Tire Inflation Device, Remote Batcomputer, the Batphone, Emergency Bat Turn Lever, Anti-Fire Activator, Bat Smoke, Bat Photoscope, and many other Bat gadgets," such as twin parachutes at the rear used to execute 180-degree turns.
Knowing the theatrics Barrett-Jackson typically employs with such celebrity cars, something tells us the Batmobile's next owner will meet plenty of Batmen, Batwomen, and Batcustomizers come January.
Source: [
autoblog.com
]
I am sure that many will be on baited breathe waiting to see what the final auction price will be.  There have been many replicas made, but none quite stack up to this masterpiece.
For more information about this auction results, and other cool car tid bits, stay logged on to
Checkeredflag.com
.  If you are interested in souping up your own Batmobile, check out any of the
Checkered Flag Parts Departments
.  I am sure they will have just what you need to make your own grappling gun or launching device. 
For more Earthly wishes in automotive fancy,
find the vehicle
you are dreaming of at
Checkeredflag.com
.  Call today at (757) 490-1111 to
set your appointment
and find the vehicle that will have all the gadgets us non-superhero types could ever want or need.