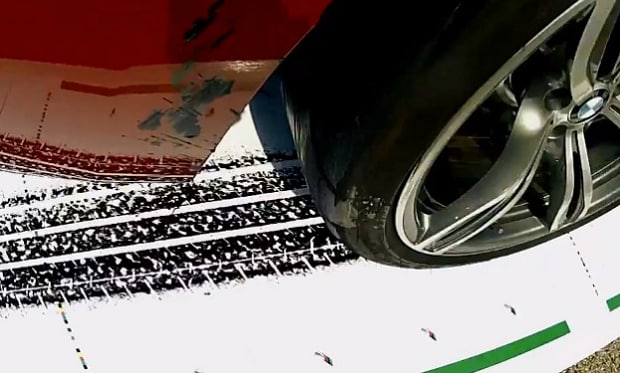 I have always believed that
BMW
created vehicles that were much like art.  Now there is proof.  I believe that the styling and lines both interior and exterior to the entire
BMW line-up
make them art.  Every detail to
Bavarian Motor Works
powerful machines have been meticulously cared for allowing nothing but pure unadulterated power, speed, luxury and fun. 
I know that many feel the same as I when they talk about their vehicles.  There is a company that has designed the perfect Christmas gift for the
BMW lover
.   Matt Mullins, stunt driver and all around car enthusiast has designed post cards using
BMW M6
.
How to make art prints with your BMW M6
By George Kennedy
Matt Mullins has done everything from stunts in movies to driving with the United States secret service, but the
BMW Performance Driving School
chief instructor has never done this before. "This" in this case is creating postcards using a
BMW M6
as the printing press.
A pressurized ink system was mounted in the trunk, which spayed ink up at the rear tires. It was controlled via a switch in the cabin of the turbocharged BMW coupe. Mullin then took the M6 out onto the track at Blackhawk Farms Raceway, where pieces of paper were placed in straight lines. Matt just had to spray the ink and drive over the paper, but keeping a high-powered machine such as the M6 in a perfectly straight line is still a little challenging.
When it was all over, the results of this little experiment were cut up into one-of-a-kind postcards, which BMW is sending out to
M enthusiasts
across the country. Sure you could create another BMW art car, or use the rear tires to do your best Jackson Pollock, but this way a great many fans will get to own a piece of yet another great intersection of BMW life and the art world.
Source: [
autoblog
]
I know that many of us are going to be out at Langley Speedway trying to get our vehicles to create the same effect, but please do not, leave this one to the pros. 
Matt Mullins takes my thoughts on the
BMW
and turns them into reality.  The
BMW
is art, now it is not just a thought it is fact.  I believe that these prints will be the newest Monet at the Louvre.  Okay, maybe they won't go that far, but they are art and I was correct.
To test drive your own piece of German artistry, call
Checkered Flag BMW
today.  Calling (757) 490-1111 will be your first step towards becoming an art collector. 
Virginia Beach BMW
is the most amazing gallery in Hampton Roads.