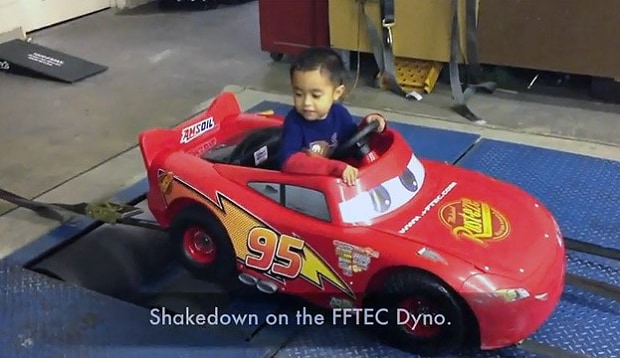 A real-life Lightning McQueen is every boy's (and dad's) dream!



Modified Lightning McQueen Powerwheels is what childhood dreams are made of

Evan here is one lucky five-year-old. In 2009 he received one of those Lightning McQueen Powerwheels, which would have been fun enough for someone his age. But according to the poster of this video, "after three years of use he had worn through the plastic wheels. We decided to upgrade the OEM plastic wheels with rubber tires."

But that was not the end. Not by a mile. His father, in a shop with some high-performance metal, continued to modify the Powerwheel, to the point that it now has a partial aluminum chassis, 24-volt gel batteries and a 500-Watt, 0.66-horsepower electric motor. The car also has disc brakes, Sparco battery cutoff switch, and a modulated throttle.

Further emphasizing that Evan here has the coolest parents, he races the custom Powerwheel at a dirt track, just like the dirt track in Cars. Check out the video below to see this awesome ride... and to think about how accomplished a driver you'd be now if you had a car like this at his age!

Article image and video source: [autoblog.com]

Keep tuned in to the home of your favorite Hampton Roads used car stores, Checkered Flag.com, for more excuses to stop working for a few minutes.