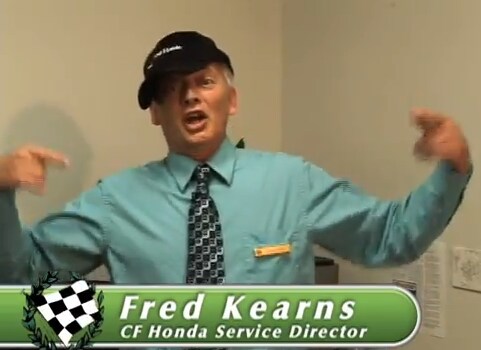 And we thought our Checkered Flag Service Department videos were going to be boring.  Well, not for our Checkered Flag Honda Service Department!




If you have difficulty viewing the video on this page, choose the following link and scroll down to this article.  Link: Checkered Flag Honda Service Rap Video

Somebody call MTV.  We've got a new nomination for 2012 Best Video of the Year.  The film crew had no idea what they were walking into when they went to shoot the video introduction at our Checkered Flag Honda store.  Who knew our Norfolk Honda Service Manager Fred Kearns would morph into a fly rhyme-spitting rap star when the cameras started rolling? 

One thing's for sure.  Fred-K is no joke!  And neither is his top Hampton Roads Honda Service Center.  They're ranked #1 in Honda Service in Hampton Roads. 

If you want to see internet sensation Fred Kearns and his crew, including awarded Hampton Roads Honda Master Technicians, at work, set up your Norfolk or Virginia Beach Honda service appointment at (757)490-1111.