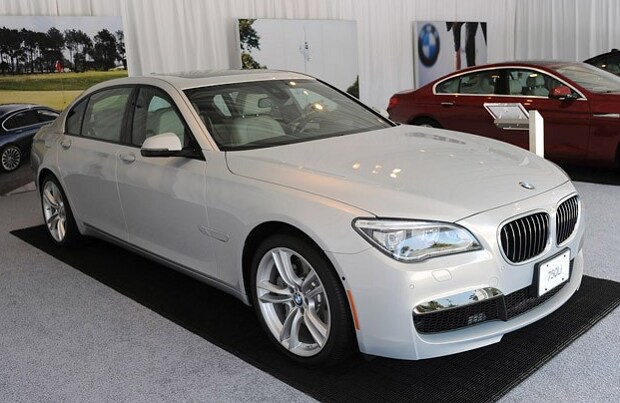 It seems that no automaker has quite the showing as that of BMW during this year's Pebble Beach auto show.  Putting out the new 2013 Zagato Roadster was quite impressive but to show off with 2 takes the show.  The debut of the new 7 Series gives a taste of all that the German powerhouse has to offer the lovers of the road for 2013.

2013 BMW 7 Series makes its North American debut at Pebble Beach
By  Zach Bowman

Behold the 2013 BMW 750i. The German automaker's flagship sedan bowed to a North American audience for the very first time at Pebble Beach, and while designers kept the big 7 largely unchanged outside, buyers can look forward to a slew of incremental improvements indoors. Under the hood, engineers rustled up an additional additional 45 horsepower and 30 pound-feet of torque from the 4.4-liter V8 in the 750i thanks to the addition of Valvetronic. The swap nudges the machine's final power figures to 445 horsepower and 480 lb-ft of twist, which help scoot the massive four-door to 60 mph in a scant 4.7 seconds. Hi-ho, Silver.

Even with the nudge in performance, BMW says it has managed to improve efficiency by around 25 percent due to the addition of a new eight-speed automatic transmission. Meanwhile, the 740i continues on with the same horsepower for 2013, but receives a 20-percent jump in efficiency thanks to its eight-speed gearbox.

Look for a new ECO PRO powertrain management system to bow on both the 740i and 750i as well. The system helps eek every last bit of available efficiency from the engine and transmission and includes a coast mode that allows the 7 Series to freewheel at speeds between 30 and 100 mph.

Source: [autoblog.com]

What a sight to behold that vehicle must be.  How amazing would this vehicle look while driving into my garage?  The only problem with a vehicle like this being anywhere near my house is that it would put it to shame.  The lines, the luxury and the pure power makes almost anything beautiful look shameful.  I cannot wait for this beautiful beast to show itself on the showroom floor. 

For more information on this new 7 Series call the knowledgeable agents at Checkered Flag BMW.  They are available to answer any of your questions and schedule your test drive.  Call them today at (757) 490-1111.  Your preferred Virginia Beach BMW dealer is there for you.