A video trailer about the legendary Batmobile is about to give us sneak peak behind the mysterious machine that moves the Caped Crusader.  Sure Batman was the hero, but the machine was his true power.  Without the use of his "toys" he was just a man.  Isn't it amazing how much power a vehicle can hold?  This vehicle has held captive audience for years, with imitators, and followers.  It has become quite a star all on its own.  Checkeredflag.com is happy to share with you the trailer for this documentary.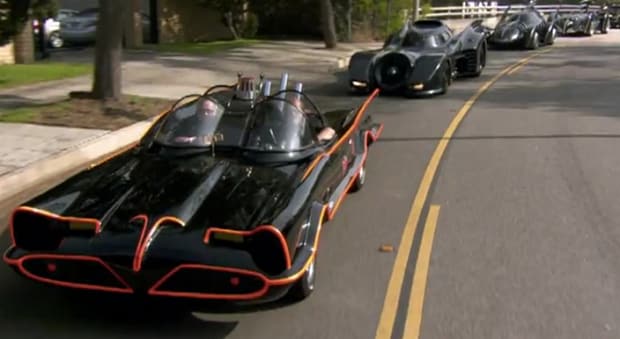 Batmobile Documentary Chronicles Ultimate Crime-Fighting Vehicle
By Anita Lienert

Los Angeles - A YouTube preview of the Batmobile documentary is linked to the July 20 release of The Dark Knight Rises, the final chapter in director Christopher Nolan's Batman trilogy. The Batmobile documentary offers a deep dive into all details of the supercar, from its "Bat-chutes" to its blazing machine guns.

The film features interviews with Batman movie directors Nolan, Joel Schumacher and Tim Burton, along with actors who have played Batman. Actor Christian Bale, who is known for his dark portrayal of the superhero, said that driving the Batmobile is "very noisy," according to the YouTube preview.

The short sneak peek film includes vintage cartoon panels of early Batman vehicles from DC Comics and footage of various TV and movie Batman vehicles, including the original 1966 George Barris Batmobile from the TV series.

Adam West, who played Batman in the TV series, described the Batmobile as a "mythic character in itself." The documentary underscores the fact that Batman had no super powers and needed a special vehicle to take on the bad guys.

The documentary is coming to Blu-ray and digital download in December.

Source: [insideline.com]

I believe that the documentary showing the Batmobile might get as much acknowledgement as the Movie-The Dark Knight Rises.  I know that I am going to be interested in seeing it.

For more information regarding this documentary and the movie to follow, stay logged into Checkeredflag.com for all your up to date information.  For my love of Adam West I might have to head to Checkered Flag Honda and have my Honda Pilot fixed up with it's own bat-gear.  I think a nice net to capture traffic causers through the Hampton Roads Bridge Tunnel would do.