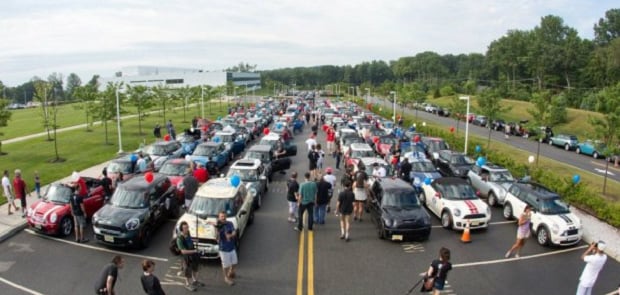 Anyone want to find some irony in the world?  MINI rally-that heads to the capital of the US on the 4th of July.  I hear loud and clear- "the British are coming." Ironic or not, I do think that MINI is about the coolest little car ever and would own one in a moment.  I would love to have some Austin Powers moments driving around in my tricked out MINI.  I lived in England for years while in grade school and fell in love with the car then. 

MINI drivers are some of the happiest around.  You would be hard pressed to find a super stout face MINI owner while cruising around in their speed bullet.  These cars are full of fun, the driver's will attest to it.  It is with this spirit of fun and adventure that MINI embarks on a cross country trek.  They are on an 11-day journey across the US, stopping in a few places along the way.  One such stop was DC to watch the fireworks in the Nation's Capital. 

Mini Takes The States: Brits re-invade Washington on 200th anniversary of War of 1812
By  Scott Burgess

Only a German-owned British brand could storm Washington D.C. on the Fourth of July and be greeted with waves, grins and the occasional thumbs up.

Minis just make people smile.

More than 300 Mini models of all shapes, sizes and years began the first leg of the 11-day Mini Takes the States 2012 campaign on America's birthday, stopping in Philadelphia and then going on to take in the fireworks in the nation's capital.

This is the fourth run of the cross-country trek of Minis, this time celebrating Mini's 10th anniversary since returning to America. (Note: 2012 is also the 200th anniversary of the original British Invasion in which the King's troops burned much of Washington D.C., including setting the James Madison-occupied White House ablaze, before being repelled in the War of 1812.)

In the ten years Mini has been back in America, the brand has continued to grow as a cult of followers. And the expansion is continuing with gusto as more and more buyers opt for the fun, racy, British styling of the cars. Mini continues to open more dealerships around the country, soon bringing the total to 120 stores in its U.S. network.

Mini also expects to have another strong year. Its June sales were up 14.7 percent compared to the same month last year, and its running 7.5-percent higher for the year, compared with 2011. The British icon now owned by BMW is on pace to sell more than 60,000 units this year. Growth is coming by way of a new roadster introduced this year. Next year, it will add a "coupe version" of the Countryman, named the Paceman, and debut the third generation Mini Cooper flagship two-door.

But Wednesday wasn't really about sales charts, as all of the participants in the rally that continues into next week had already bought a Mini.

This journey started at Mini headquarters in Woodcliff Lakes, New Jersey, moving to Philadelphia for an afternoon of autocross driving, and then ending the day in D.C. for the fireworks. While every Mini seems to have a distinctive look created by its owner, the common denominator for the group are the smiles.

"The staff did a great job," said Alan Rosner, who drove his Mini from California to be part of the entire rally. This is the second time Rosner has driven in the Mini rally.

Cruising along Route 301 in Delaware, the line of Minis stretched down the road for more than a mile. Tough to pull off a sight like that with, say, Chevrolet Impala sedans. People waiting to turn onto the highway just waved and laughed as a seemingly endless supply of Minis rolled past. They didn't even look annoyed in having to wait.

The rally trip moves today from D.C. to Charlotte, N.C., and then to Nashville, Louisville, and then to Chicago, each day picking up some drivers and dropping off others. Organizers said that the volume of drivers will remain around the same on any given day.

From Chicago, the train of Mini drivers heads to Des Moines, Iowa; Lincoln, Neb.; Boulder, Colo.; Albuquerque, N.M.; Phoenix, Ariz., and ultimately ending in Los Angeles, Cal. Already more than 4,000 people have registered to join in all or parts of the drive and MINI officials have said that 89 people have registered to drive the entire 3,908-mile route.

"I love it," said Tony Ruiz, along with his wife Maria Ruiz, of the first day drive. Next time, Tony Ruiz said, the couple is going to drive the entire route.

Source: [autoblog.com]

It is with this spirit that MINI continues to grow.  Checkered Flag is so proud to have them as part of the family and will keep you posted if any MINI sponsored, or Checkered Flag MINI sponsored Rallies come to our area. 

For more information about any current MINI models, or models coming soon, call Checkered Flag MINI, your Virginia Beach MINI dealer at (757) 490-1111.