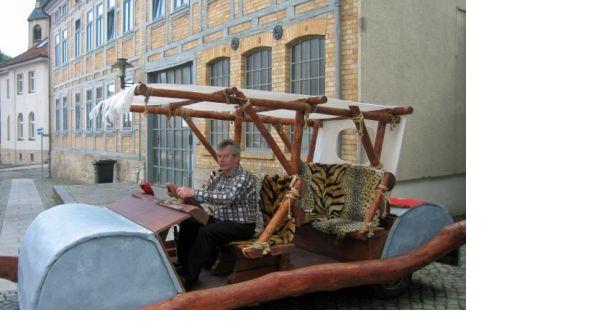 Ever want to be in the cartoon The Flintstones.  My maiden name is often compared to that of the characters on the 1980's cartoon, The Flintstones, so I certainly did.   I even dressed like Betty Rubble a time or two for Halloween to take it to the extreme. 

The concept of someone else loving the Daba Daba Doo-rific cartoon as much as me sounds wonderful. I will leave it up to you as to whether or not this goes too far.

Flintstones-mobile banned from German roads
By Jonathon Ramsey

Sebastian Trager of Germany is mad for the Flintstones. So he took a Volkswagen Polo, ripped off everything but the motor, chassis and wheels, and then covered the rolling bits with a replica that he built of Fred Flintstone's car. Other than the Polo underpinnings, about the only thing he changed is using wooden benches in place of the granite slabs from the show car.

According to Metro UK, Trager then wanted to get it approved for road use, and that's where his stone-age tribute clashed with modern regulations, because German authorities would have none of it. While there are exemptions in Germany for vintage cars and small-output carmakers, there aren't exemptions for cartoon replicas that don't have windshield wipers, or windshields, or seat belts, or lights. So even though Trager vows that "it's perfectly safe," he has settled for trailering it to shows, where "everyone seems to love it."

Source: [autoblog.com]

So, to dabadoo, or not to dabadoo that is the question.  What is your thought on it?  Stay tuned to Checkeredflag.com, your Norfolk, Virginia Beach and all of Hampton Roads favorite car dealer, Checkered Flag.  Call (757) 490-1111 to schedule a test drive and decide on your Flintstone mobile today, although yours will come much better equipped.