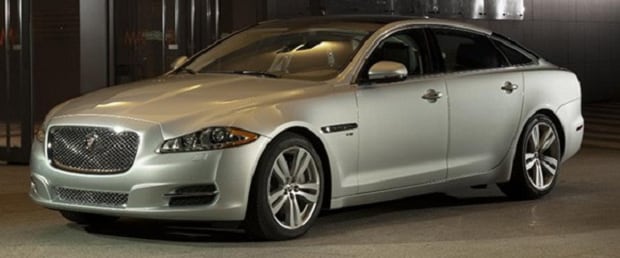 Source: [autoblog.com]

Given my love of all things beautiful and fast, the new 2013 Jaguar XJ make me very happy.  I also have a supreme love of money, so the new and imroved fuel efficiency also makes me smile.   Finding out that Jaguar has replaced the V8 engine for a V6 makes good sense.  The changes to the engine as well as spring and damper rates for a more comfortable ride and improving the sound system are going to make the XJ one amazing kitty.  With the increased fuel efficiency the car will be greener, meaner and a lot more desirable.

2013 Jaguar XJ replaces 5.0L V8 with supercharged V6
By  Zach Bowman

Jaguar has announced a few updates for the 2013 XJ, the most significant of which is the availability of an all-new supercharged 3.0-liter V6 engine. The six-cylinder is good for 335 horsepower and 331 pound-feet of torque and is bolted to a new eight-speed automatic gearbox with a start-stop function. All told, the changes should help the big four-door yield a 14 percent improvement in fuel economy over the old naturally aspirated 5.0-liter V8 and its six-speed transmission.

While no Environmental Protection Agency numbers have been released as of yet, our quick math indicates the 2013 XJ could crank out 18 miles per gallon city, 26 mpg highway and 21 mpg combined. That fuel economy does come with a price, however. The delicious 5.0-liter V8 currently serves up 50 more horsepower and 49 more lb-ft of torque compared to the new force-fed six.

In addition to the drivetrain changes, Jaguar reworked the spring and damper rates for better on-road comfort, and a new 825 Meridian sound system is also part of the mix.

Source: [autoblog.com]

With the ridiculous power of the V8, the V6's decrease in horsepower should be a relief to those whose engines are causing a strain at the fuel pump.  The amazing quality and push for excellence will make this car a master of the road.

To set up your test drive today call Checkered Flag Jaguar, your Virginia Beach Jaguar dealer at (757) 490-1111.