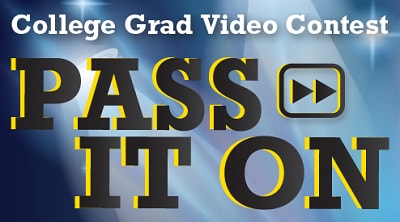 Attention Checkered Flag fans.  If you know any Hampton Roads graduating college seniors or recent college graduates pass this along. Your grad could win a brand new 2012 Toyota Corolla S.

Toyota's $1,000 college grad rebate is one of the best in the market, but it is also one of the best-kept secrets.  In order to let the secret out, Toyota's College Grad Video Contest is going to spread the word about Toyota's $1,000 college grad rebate.  So get your creative juices flowing and show us how you would spread the word to your fellow grads.  The Contest Winner takes home a brand new 2012 Corolla S.  To learn more about the contest, Sweepstakes, Instant Win Game, and for more prize information, check out our video and read the Official Rules at the following link.  Good Luck to all of our Checkered Flag Toyota grads! 

Link to contest information:  Toyota's College Grad Video Contest

Here's a little more information for our Checkered Flag Toyota customers.  To enter the contest, and for a list of official rules you must follow the link for the Toyota College Grad Video Contest.

How will the contest work?

Recent college grads can submit a video of 60 seconds or less either showing or telling how they would spread the word about Toyota's $1,000 college grad rebate. The video submission period runs through May 8, and during that time registered users can rate their favorite videos. There will then be a week-long voting period where Toyota Financial Services judges will select the top 10 video submissions. On May 16, the 10 finalists will be featured on the contest site, and registered voters will then have the chance to vote for their favorites. A combination of voter results and judging feedback will determine the winners. All registered users will also be eligible to win a final sweepstakes prize of $1,000. And participants who vote on the final 10 are also eligible for instant win prizes. Complete rules are posted on the contest web site - www.toyotagradcontest.com.

Prizes Include:
Grand prize = 2012 Corolla S
Second prize = $2,500
 Third prize = $500
200 Instant Win prizes - $20 Amazon.com gift cards
Sweepstakes prize = $1,000

Eligible Participants
Must be 18 years and older
Graduated from a two- or four-year college within the past 2 years (similar to rebate criteria)

For more information about the Toyota College Grad Rebate program, contact Checkered Flag Toyota on Virginia Beach Blvd at (757)490-1111.