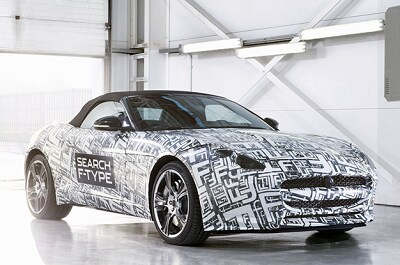 Checkered Flag fans will be glad to hear, Jaguar has an all-new all-wheel drive sports car in the works. 

Image and article source:[autoblog.com]

Jaguar confirms F-Type coupe, AWD coming within two years
By  Steven J. Ewing

Shortly after Jaguar announced that the production F-Type will be coming to market in mid-2013, we sat down with Adrian Hallmark, Jaguar Global Brand Director, to discuss some of the finer points of the new sub-XK sports car. The F-Type is more or less the production version of the C-X16 concept that debuted at the 2011 Frankfurt Motor Show, but instead of sticking to the concept's coupe body style, Jaguar said that the production F-Type will launch as a two-seat roadster. But that doesn't mean a coupe isn't coming.

    Jaguar "certainly won't stick to just a convertible. If you get a convertible right, it's easy to do a coupe."

"C-X16 was a vision car," Hallmark stated. The intent of C-X16 was to show off a new design language, and it's easier to completely realize the full capacity of a new styling direction on a coupe body style rather than on a roadster. But when we asked Hallmark about the possibility of a hardtop F-Type, his response was that Jaguar "certainly won't stick to just a convertible. If you get a convertible right, it's easy to do a coupe."

Jaguar's director of design, Ian Callum, added that there are no plans to offer a folding hardtop version of the F-Type roadster – it will use a standard soft top. A folding hardtop "would ruin the shape of the car," Callum told us.

As we reported earlier, the F-Type will use a new powertrain family, possibly previewed by the supercharged 3.0-liter V6 and electric motor combination found under the hood of the C-X16 concept. Hallmark stated that in terms of driver involvement and performance, the F-Type "will start where the XKR-S finishes, even with less power." In other words, the F-Type will be more of a focused sports car rather than a luxury GT. As for pricing, Hallmark stated that the F-Type will be priced below the XK but above competitors like the Porsche Boxster/Cayman, BMW Z4 and Mercedes-Benz SLK.

Moving away from the F-Type, Hallmark spoke briefly about plans to add all-wheel drive into the Jaguar lineup. "We're very interested in all-wheel drive," he stated, later adding that the company will likely offer it in its next-generation products rather than fitting it to the vehicles that are currently available. Hallmark assured us that it will be "not more than two years" until we see an all-wheel-drive Jag, and that prototype vehicles are already in the on-road testing phase.

End of article.

You can count on your favorite Hampton Roads Jaguar dealer, Checkered Flag Jaguar , to have the first all-wheel drive Jaguars in the area.  For updates, stay tuned to your Virginia Beach Jaguar website, checkeredflag.com.  Call Checkered Flag Jaguar at (757)490-1111 with all of your Jaguar questions.