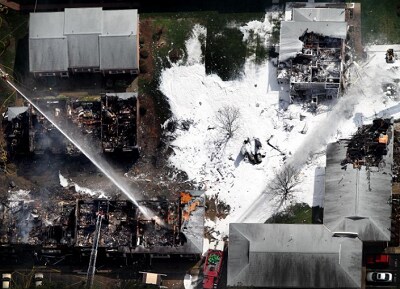 That was a close one.  A little too close if you ask the residents of Virginia Beach.
As of this morning, all residents of the jet crash site area in Virginia Beach have been accounted for.  Hampton Roads residents and even our out-of-area Checkered Flag fans have been keeping their fingers crossed since yesterday afternoon when a Navy F/A-18D Hornet crashed into an apartment complex in Virginia Beach. 

Here's the up-to-date information on the crash.

Investigation to begin in Navy jet crash in Va. Beach
By Cindy Clayton
Image and article source:[The Virginian-Pilot]

Crews worked through the night sorting through debris, setting up a security zone and beginning hazardous materials assessments at the site off Birdneck Road where a Navy F/A-18D Hornet slammed into an apartment complex on Friday.

As of this morning, everyone is accounted for, although officials can't yet say officially that no one perished in the crash, said Battalion Chief Tim Riley, Virginia Beach Fire Department spokesman.

"We can't say that it's all clear, but we're not actively looking for anyone," Riley said this morning.

There are areas that crews have been unable to search because of the structural damage to the buildings, Riley said. All the residents of the the Mayfair Mews apartment complex who were listed with managers have been accounted for, he said. Officials had 63 people listed as living in the complex. Anyone who has not heard from a loved one who lives there should call the city's 311 number.

"There is catastrophic damage to the apartment complex," Riley said during an early briefing today near the site.

About 50 apartments were damaged, three of the buildings had totally or partially collapsed, he said. Some had their roofs burned away by the fireball that erupted when the plane crashed about 12:05 p.m on Friday. Both pilots ejected safely and were taken to a hospital. One had been released and the other stayed overnight for observation, according to Riley.

Firefighters had been able to keep the flames from spreading to all the buildings, he said.

"They did an excellent job of containing it to the point of origin," Riley said. He added that recent joint drills on crash scenarios held with the Navy were "instrumental in the success of the operation" on Friday.

The burned plane remains inside the complex this morning, while crews work on a plan to deal with the clean-up. He said officials believe the clean-up will take days and could go on as long as a week.

Overnight, crews monitored the air for possible health hazards, and "there is no immediate health threat at this time," Riley added.

Residents and others who come across jet debris should not touch it, according to a city news release. They should call the Virginia Beach Emergency Communications at 757-385-5000 or 911. Touching the debris is a federal offense.

Officials plan to transition to the investigative phase of their operations today, he said.

The Navy on Friday said it was investigating the cause of the crash, citing a "catastrophic mechanical malfunction." The investigation is a joint operation between federal, state and local agencies, Riley said, and includes the Navy, Virginia State Police and Virginia Beach Fire Department.

"We're getting all kinds of witness statements," Riley said. "It's too early to speculate on any kind of cause."

Investigators are asking anyone who has cellphone footage from the moments before the crash to contact them by calling the city's 311 number.

Later today, a Navy official plans to meet with the media to give an update on the progress. Navy officials also plan to meet with the apartment residents this afternoon at 2:30 p.m. at the Virginia Beach Law EnfThe city has assigned a liaison to work with the residents. They will help with people who need to get medications, clothing and other personal items. Riley did not know when residents would be allowed back at the site to assess the damage or retrieve their property.

The jet, a two-seater, belongs to VFA (Strike Fighter Squadron) 106, a training squadron for pilots learning how to fly F/A-18 Hornets and Super Hornets. The squadron, nicknamed the Gladiators, trains about 100 Navy and Marine pilots a year.

For updates on local Hampton Roads news, stay tuned to the home of your favorite Hampton Roads new and used car stores, Checkeredflag.com.