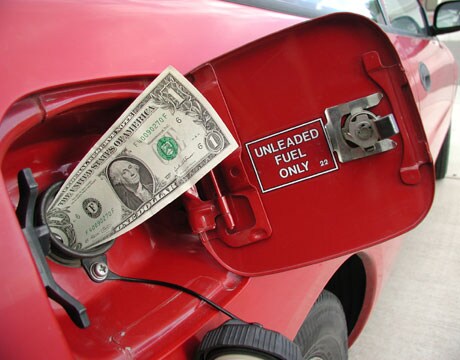 The kids are out for spring break and you're ready to hit the road.  As in the past few years, unfortunately, that means Hampton Roads gas prices are headed toward $4.00 per gallon for regular unleaded.   Now, you could start canceling your out-of-town reservations now, or, you can take the advice of Checkered Flag, along with Real Simple Magazine, that could help you better deal with the unwelcome increase.

One obvious solution is to decrease your gasoline dependency by trading in your current vehicle for a hybrid model.  I find that many Checkered Flag fans are not even aware of all of the hybrid models each of our nine stores has to offer.  Sure, the original hybrids had standout design and styling that might have been less attractive to some, but now, most hybrid models are identical to their more gas dependent siblings.  Oh, and that slightly increased price tag, well, with gas prices at or near the current mark, the difference would be made up in no time.  Checkered Flag currently offers hybrid vehicles from Honda, Hyundai, Toyota, BMW, Volkswagen, Audi, Porsche, and others including pre-owned models.  Call (757)490-1111 for details.
 
Now, if you are like me, and have a pretty serious attachment to your current non-hybrid vehicle, you still have some options to optimize your pennies.  A great way to immediately increase engine efficiency, and increase gas mileage in turn, is to have your vehicle serviced regularly.  This is one of the simplest but possibly most underutilized methods of gasoline savings.  Call Checkered Flag to schedule oil changes, tune-ups, or even important tire rotations that will keep your car or truck at peak performance.  Click here for more Virginia Beach Service Center information:  Checkered Flag Maintenance.

Here are a few additional gas saving tips from Real Simple Magazine:

  Best route: Changing the way you drive can raise your fuel economy by as much as 50 percent, says mechanical engineer Ron Graves, the director of the Fuels, Engines and Emissions Center at the Oak Ridge National Laboratory, in Knoxville, Tennessee. Here's how to increase fuel economy.

    Take it easy. Aggressive driving, like jackrabbit acceleration when lights turn green and hard braking at reds, burns a lot of gas. Just smoothing out your starts and stops can save you up to 30 percent in gas mileage.
      
    Watch your speed. "Most passenger cars get their best fuel economy between 45 and 55 miles per hour," Graves says. And each five miles per hour that you drive above 60 mph costs you the equivalent of about 15 cents a gallon (based on a price of $2.25 a gallon).
      
    Keep the engine tuned, the air filter clean, and the tires filled to the proper pressure.
      
    Reduce air conditioning use, unless you're on the highway, where the drag of open windows sometimes consumes more power than running the A/C.

      For more fuel-savings tips, visit the U.S. Department of Energy website at fueleconomy.gov.
End of article.

If you have any questions or would like to schedule a hybrid vehicle test drive or service appointment for your current vehicle, call any of our Checkered Flag Norfolk or Virginia Beach new and used car locations at (757)490-1111.