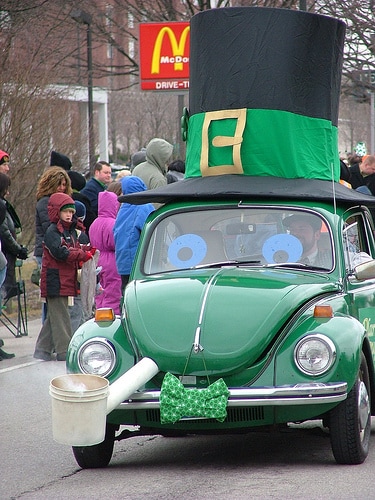 I hope all of our Checkered Flag fans are having a little the luck o' the Irish this St. Patrick's Day!

Lucky we are to have such celebrations lasting the whole weekend through.  Living here in the seven cities, we know that any excuse for a party is a good one, but when the ultimate party holiday comes this special time year, one night just isn't enough! 

Thanks to our friends over at the Virginian Pilot, we've got the calendar breakdown for all of you Checkered Flag fans so that you don't miss out on a moment of the good green St. Patrick's Day in Hampton Roads fun!

Source: [pilotonline.com] (edited to only include weekend events)

St. Patrick's Day fun to be had in Hampton Roads

Go ahead and get your green on this St. Patrick's Day.  Here's a sampling of events happening in Hampton Roads.

THE CLASSIC

45th annual Ocean View ST. Patrick's Day Parade

This favorite is presented by the Knights of Columbus, and going strong since 1967.

The 1.5-mile parade will step off at 10 a.m. Saturday at Northside Middle School, at the corner of Westmont Avenue and Granby Street in Norfolk. For complete route and after-party information, visit www.norfolkparade.com.

ROCKIN' THE SHAMROCKS

A community gathering, get-fit outings and a party to kick off the festival season.

Shamrock Marathon

The annual Oceanfront event features races, concerts and the Sports and Fitness Expo. Friday through Sunday. For a complete schedule, visit www.shamrockmarathon.com.

ShamRock 'N Roll

Sponsored by Norfolk Festevents. The St. Patrick's Day celebration also kicks off the festival season. 5 to 9 p.m. Saturday at TowneBank Fountain Park in Town Point Park, Norfolk. 441-2345, www.festevents.org.

Emerald Slippers

World champion Irish dancer brings his moves and a bit of Blarney, too.

"When Irish Eyes Are Smiling"

Presented by ShowStoppers Productions and featuring Ireland's own Anthony Fallon. 2 and 7:30 p.m. Saturday at Kimball Theatre, Williamsburg. $22. 800-447-8679.

PINT ME

Looking for green beer? Here are a few local bars hosting parties, food/drink specials and music.

Murphy's Grand Irish Pub

Friday through Sunday at 2914 Pacific Ave., Virginia Beach. 417-7701.

Jack Quinn Irish Pub

11 a.m. Friday and 8 a.m. Saturday at 241 Granby St., Norfolk. 623-2233.

The Banque

5 p.m. Saturday at 1849 E. Little Creek Road, Norfolk. 480-3600.

O'Sullivan's wharf

St. Patrick's celebration with 12 South, 9:30 p.m. Saturday. 4300 Colley Ave., Norfolk. 961-0899.

LEPRECHAUN MISCHIEF

Create a little fairy creature magic. Don't forget his gold coins.

"Leaping Leprechauns!"

Make a puppet out of recycled materials. 1 p.m. Saturday at Norfolk Botanical Garden, 6700 Azalea Garden Road. $20 for parent and child ($15 for members). 441-5830.

POT OF GOLD

Make a side dish with or without cabbage, hit the dance floor and get social.

St. Patrick's Day potluck and dance party.

8 p.m. Friday at Town Center Dance, 205 Town Center Drive, Suite 220, Virginia Beach. 603-3626, www.towncenterdance.com.

FOUR-LEGGED CLOVERS

Unlucky in love? Adopt a new pet.

"Luck of the Irish"

Half-price adoption specials sponsored by the Portsmouth Humane Society. Noon to 5 p.m. Saturday at 4022 Seaboard Court. Adult dogs are $50, cats are $25 (cats are adopt one, get a buddy free). 397-6004, www.portsmouthhumanesociety.org.

"Lucky Charmers" adopt-a-thon

Sponsored by Suffolk Humane Society and Suffolk Animal Control. 11 a.m. to 3 p.m. Sunday at the PetSmart, Chesapeake Square, 4300 Portsmouth Blvd., Chesapeake. 538-3030, www.suffolkhumanesociety.com.


And, of course, we're offering up some deals here at Checkered Flag that won't have you spending your entire pot of gold.  Call (757)490-1111 for any of our Norfolk and Virginia Beach car dealers.