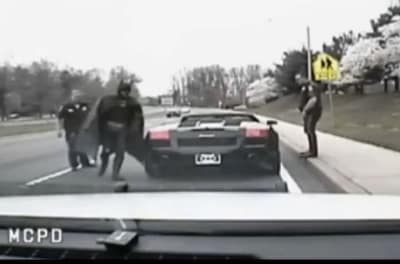 Batman gets busted breaking the rules in Maryland earlier this week. 

Apparently, this Bruce Wayne enthusiast didn't think a license plate went with the Batmobile look of his black Lamborghini.  While many jumped to the conclusion that this guy was some kind of weirdo, it turns out he was really out doing a lot of good. 

Article source: [autoblog.com]

The real story behind the speeding Batman

By now you've probably heard about "Batman" getting pulled over by the cops in his Lamborghini Gallardo Spyder. The story has been all over the Internet this week, thanks to the in-car video from the local Maryland police department that stopped the caped crusader. But now we've got the real scoop on this would-be Bruce Wayne, thanks to the Washington Post.

His name is Lenny B. Robinson, and being Batman is only a part-time gig for the wealthy philanthropist. Robinson visits sick children in hospitals around the Baltimore area, decked out in a $5,000 neoprene-and-leather Batman suit, according to the report. He hands out Batman toys, signs autographs and gives the kids some much-needed fun, while boosting the morale of the parents, as well.

The Lamborghini is just part of the fun, though Robinson told the Post that he's having a "real" Batmobile built. (Which of the various movie cars he's having replicated was not specified.) While this episode marked Robinson's first time in a national spotlight, it wasn't his first encounter with the police while in costume. Patch reported on a distress call made by "Batman" back in November 2011, when Robinson's Gallardo had a flat.

End of article. 

If you've seen anything crazy while driving around Hampton Roads, tell us about it in the comments section below.  I know some of our Checkered Flag fans will have some very interesting stories.