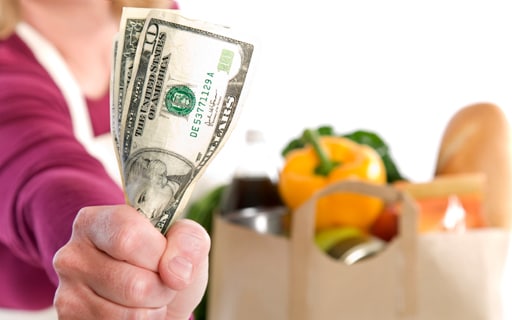 Most of us are busy coming up with our New Year's resolutions for 2012.  I have just one- to save money.  With newborn twins going through twenty diapers a day, a husband with a taste for expensive cheese, and puppies who only eat the high end stuff, I need to cut costs wherever I can.  I'm betting a lot of our Checkered Flag fans are looking to do the same.

Thanks to an episode of "Today" that aired earlier this week, I was able to find an excellent webpage with simple and practical tips to help me get my New Year's resolution into action. 

Article source: [thenest.com]
Easy Ways to Save $1,000+

The holidays hit your wallet hard this year? Don't worry, we've got you covered. Here are 30 painless ways to slash your spending ASAP.

1. BECOME A BAG LADY (OR DUDE)

Many stores offer rebates and incentives to customers who use environmentally friendly, reusable totes. Although it'll typically only save you 10¢ or so, if you use a few bags every time you shop and you hit up the grocery store once a week, the savings will add up...to at least a lotto ticket.

2. DON'T DIAL 411

You forgot to write down the address of the restaurant where you're meeting your pals, and now you're stuck on a street corner. Before you dial 411, remember you'll get slammed with your wireless provider's $1.99 fee. If you don't have Internet service on your phone, you can text Google instead (466453). Don't believe us? Go ahead, try it!

3. BYOB

Going out for dinner with your favorite wino friends? Call ahead and ask a) if you can bring your own wine and b) what they charge for the corkage fee. If you're planning to buy a few bottles of wine (or a couple of glasses each), it could pay to bring your own. Bonus: You'll probably get a much nicer bottle of vino for the price if you bring one you bought from a liquor store, since restaurants often mark up their booze.

4. SHOP AHEAD

Buying staples on an as-needed basis means you'll often find yourself running to the corner store, where you'll pay a premium. Instead, keep track of the things you buy regularly and then get them in mass quantities when they go on sale at your grocery store. Seriously, buy as many as you can fit in your house without a loved one signing you up for Hoarders (or as many as the store allows, since sales are sometimes limited).

5. WORK OUT FOR LESS

Getting in shape was one of your New Year's resolutions...but so was saving dough. Here's how to actually stick with both this year: See what other gyms in your area are offering and then ask your gym to match the lowest monthly fee you find. If it won't, then switch gyms (duh!). Got the best deal in town? See if your health insurance company reimburses you for working out––many do.

6. CANCEL YOUR PHONE INSURANCE

According to Bundle.com, most money experts aren't fans of cell phone insurance. The reason? You're paying around $5 a month to insure your phone, but you'd still have to shell out an additional $50 deductible to get a new one. Save the five bucks, and if something does happen to your precious BlackBerry, it's typically cheaper to pick up a used phone online.

7. USE A RAG

Cut down your environmental impact—and the impact on your checking account—by using a rag instead of paper towels.

8. WRAP YOUR WATER HEATER

If your hot-water bill gets you all steamed up, you might want to check the age of your water heater. Newer ones have plenty of insulation, but electric ones built before 2004 could use a little help. So wrap it up in an insulating jacket like a Thermwell Water Heater Blanket ($22 on AceHardware.com), and you could save around $30 a year.

9. DON'T PAY FULL PRICE AT THE THEATER

There's nothing better than spending a snowy Sunday at the movies, but ticket prices (plus those $5 Cokes and $7 popcorns) are enough to make you as homicidal as Patrick Bateman in American Psycho. Before you go and try to feed a kitten to an ATM, hit up Costco or Sam's Club, where you can buy discounted movie tickets to major theater chains like AMC. (You can also ask your employer if it offers discounts at certain theaters––many do.) Don't have a membership? Instead of dinner and a movie, go for a matinee followed by the early-bird special.

10. TAKE IT DOWN A NOTCH

Turning down the thermostat 10 to 15 degrees in winter (and turning it up in summer) while you're at work or out running errands could lower your energy bill by as much as 15 percent.

11. GO ON A GAS ATTACK

If gas prices are causing you to seriously consider adopting an Amish lifestyle, here's a solution that doesn't involve a horse and buggy: Before you head to the pump, locate the gas stations with the lowest prices by checking websites like GasBuddy.com, Autos.MSN.com and BillShrink.com.

12. GET TO KNOW YOUR SLOW COOKER

You're jonesing for a hearty meal, but you have neither the time nor the money to really pull it off. That's where the slow cooker comes in. It's way more energy-efficient than your oven, which means it costs less to operate and your energy bill will go down. Added savings: A slow cooker turns tougher cuts of meat into mouth-watering eats, so you can go a little cheap on the beef and save at the grocery store too.

13. GIVE A DOG AN...iPHONE?

The dilemma: You finally took the plunge into parenthood and purchased a pup (one step at a time, right?). And while you love the little tail wagger, you don't love the way he's devouring everything you own. Too bad obedience school isn't in your budget. No need to worry: "There's an app for that." Teach your dog to sit, stay, speak or bite your mother-in-law with the Smart Dog Training app, which you can download for a much more manageable $4.99. (Bonus: Because the app is portable, you'll be able to correct any doggy misbehavior on the spot.)

14. CHOOSE EMAIL OVER TEXTS

Can't seem to stay within your monthly text limits, but not texting quite enough to make it worth the upgrade fee? Check out this sweet trick for avoiding overage fees: If your phone has an email feature, you can send texts via email (if you know what type of plan the person you're emailing has). Here's the format:

If the receiver has Sprint, use: phonenumber@messaging.sprintpcs.com

If the receiver has Verizon, use: phonenumber@vtext.com

If the receiver has T-Mobile, use: phonenumber@tmomail.net

If the receiver has AT&T, use: phonenumber@txt.att.net

15. CHOOSE CHEAPER CUTS

Look, we know you're really into your chicken breast, but if you're really into your white meat, buying a whole chicken is cheaper than buying prepackaged pieces.

16. PICK YOUR VEGGIE...NIGHT

With pork and beef prices on the rise, going vegetarian one night a week is an easy way to save. And before you get all "Where's the beef?!" on us, remember: Spaghetti + marinara sauce + heaps of Parmesan counts as vegetarian. (By our calculations, so does Easy Mac.) Oh, and did we mention going veggie is good for the planet too?

17. UPLOAD YOUR BILL TO UNLOAD COSTS

You're sure you must be overpaying for your wireless service (it simply can't cost that much to own a cell phone, right?). But who has the time to go over the fine print? Validas.com does. For five bucks, the site analyzes your phone usage, points out where you're overpaying and will even recommend more budget-friendly plans.

18. BE GENERIC

We know, we know. Tide just smells so fresh, and the drugstore version might not get your whites as white. But replacing just five brand-name items a month with the generic versions could save you a pretty good sum by month's end (and a ton over the course of a year). Come on, you can handle the store-brand toilet cleaner, can't you?

19. UNSUBSCRIBE

Yes, we understand that if you're staying home to save money, Netflix feels like a must. But why pay anything when you can rent for free? See, there's this place called a library, where they lend out not only books but also a surprisingly impressive collection of current DVDs. And since everyone else is too lazy to walk farther than the mailbox for new movies, your favorite flicks will almost always be in stock.

20. UP YOUR DOSAGE

If you need your monthly prescription, but you really, really don't need the headache that comes along with paying for it, ask your doctor to double your dosage and cut your pills in half. (Note: This will only work if your pill is one that can be safely sawed in two, so forget those gelcaps and capsules.) Since you're not refilling every month, you'll save 50 percent (we're talking hundreds of dollars each month in some cases).

21. FIGHT THE POWER...HOGS

If your electricity bill is shockingly high, unplug your appliances when they're not in use so they don't draw energy—and cost you money. The easiest way to do this is to plug your biggest energy eaters into a power strip, so you can turn them all off with the flick of a switch. Not convinced it makes that much of a difference? Consider this: You could save as much as $110 a year just by flipping off the power strip when it's not in use. Need we say more?

22. AMUSE YOURSELF -- FREELY

The commute is getting old, and you're in desperate need of some new music and a good book, but you don't want to spend $50 for entertainment. So what's a culture junkie to do? Get it all for free, of course. As part of the First Listen series, NPR.org allows you to listen to tons of albums (before they're even released) for free, and Amazon.com offers a downloadable free song of the day. Free e-books are available at Amazon.com, Borders.com, BarnesandNoble.com and Gutenberg.com. Still prefer reading material with actual pages? Head to the local library.

23. SHOW YOUR MUG

You love your morning joe (and we don't mean your man). And while you know brewing at home's cheaper, you just can't resist the draw of Starbucks/Dunkin' Donuts/anywhere that doesn't involve spooning the grinds yourself. Grab your mug, java junkie! Bringing your own could score you a discount at many coffee joints, including good old five...we mean, Starbucks.

24. BE CLASS-Y

Want to spiff up your pad but don't have the cash? Many home-improvement stores offer free classes on everything from furniture upholstering to flower arranging, and they'll often throw in an in-store discount just for attending. We know -- you can thank us for your gorgeous new dining room chairs and plush new bath towels later.

25. PURCHASE DINING DISCOUNTS

In desperate need of a romantic date night but not another charge on your credit card? Get back in the mood by heading to Groupon.com or Restaurant.com for major savings at tons of great restaurants (read: not just Applebee's) in your 'hood. Groupon.com, which covers over 160 cities in the U.S. and Canada alone, offers daily discounts at restaurants, while Restaurant.com offers discounted gift cards to restaurants. Even better: The already-discounted cards go on sale frequently, so you could land a gift card for just $1 (no joke).

26. EMBRACE COUPONS

You can really reduce your tab at the supermarket, drugstore and even Best Buy by using good old-fashioned coupons. No need to wait until Sunday to attack the paper with your scissors; you can score coupons online any day of the week. Check out sites like Coupons.com, SmartSource.com, RedPlum.com and Coupons.com. Gotta have that one thing that wasn't under the tree this year? Check for coupons or promotion codes at RetailMeNot.com.

27. MAKE FRIENDS WITH A STUDENT

It's that time of month again: The J.Crew catalog has arrived, and you want everything in it. (Well, maybe not those sequined harem pants, but definitely everything else.) The solution? Make friends with a student or teacher, and take them to the store with you. J.Crew gives a 15 percent discount to college students and professors. And you'll find similar discounts at tons of other retailers -- just ask.

28. SPLURGE SMART

You know you should be scouring Craigslist for a new side table for your living room, but you've fallen totally, hopelessly in love with the brand-new one from West Elm that's outta your price range. Enter PlasticJungle.com. The site offers gift cards for more than 400 brands -- everything from 1-800-Flowers to Petco to, yes, West Elm -- all at discounted prices. Shipping's free, and the company nullifies any risk by verifying the balance on the gift cards itself.

29. MAKE IDLE THREATS

As you're not under contract, you can call up your cable provider and get your bill reduced. Here's how: Call the company and nicely tell the first person you talk to that you're pleased with your service, but it's just too expensive. Ask if there's anything she can do for you. Either she'll offer you something small, or she'll say no. Either way, the goal is to be transferred to a "retention specialist" so you can state your case and threaten (again, nicely) to take your business elsewhere. Your threats could save you $30 a month.

30. TAKE YOUR SWEET TIME

Vendors really don't want to lug their produce back to the farm, so hit up the farmers' market late in the day when they start discounting their wares to get rid of them. Just remember: Some things (homemade rhubarb pie... mmm) do sell out, so if you're looking for something special, don't go too late.

Nestperts: Kathy Spencer, author of How to Shop for Free: Shopping Secrets for Smart Women Who Love to Get Something for Nothing; Phil Villarreal, author of the oh-so-humorous Secrets of a Stingy Scoundrel: 100 Dirty Little Money-Grubbing Secrets.

--By Ashley Muldoon
End of article.

Of course, another great way to save some cash is by shopping at the right time.  And, if you're looking for a new vehicle, now is that time.  Check out year-end clearance deals at our Checkered Flag stores including Checkered Flag Toyota and Checkered Flag Hyundai.  Call (757)490-1111 for full details.