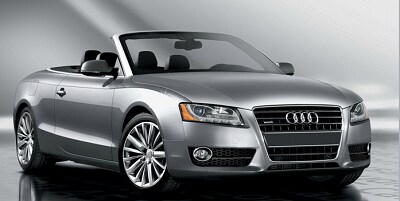 Sunday Virginian Pilot readers may have noticed a familiar Checkered Flag Audi standout, the 2012 A5 Cabriolet, featured in the Drive section this weekend.  Although the new A5 Cabriolet has had its fair share of national attention, it is especially nice to have a firsthand review from a local Hampton Roads driver, Larry Printz. 

How did it go?  Well, read ahead.

Article source: [The Virginian Pilot 9/25/2011]
AUDI A5 CABRIOLET TAKE A GRAND TOUR

   Even before I drove it, the Audi A5 Cabriolet passed the toughest test any convertible faces: How does it look when the top is raised? While many convertibles flunk this test, the Audi sports an invitingly upscale appearance that whispers, "Yes, I am gorgeous, I am expensive and I am worth it."

   That's especially true of the top itself, which is made of cloth, rather than metal. By eschewing this current fashion trend, Audi designers could avoid the swollen, bulbous trunk that afflicts so many hardtop convertibles. Instead, the A5 looks like a modern classic.

   Even better, the top folds in a mere 15 seconds.

   Once stowed, the A5's high-quality interior quality can be seen, with a large screen in the center of the instrument panel. Strangely, the knob and buttons that control it are not on the center console. Instead, they're tucked up under the screen where they're hard to use. Ordering the navigation system moves the controls to where they should be. But this car didn't have it, despite its as-tested price of $50,170.

   It also lacked a push-button starter, blind-spot detection, parking sensors, Bang & Olufsen sound system and a rear back-up camera. They're available, but you must opt for the Prestige Package, rather than the Premium or Premium Plus Package.

   But the front seats are roomy and comfortable. The rear seats are a little less so due to a rather upright seatback.

   As with other Audi models, you have a choice of front-wheel drive or Quattro all-wheel drive. In front-drive models, a continuously-variable automatic transmission is standard. Given the unusual shift characteristics of a CVT, I'd opt for the all-wheel-drive model, which gets an eight-speed Tiptronic automatic that can be shifted manually.

   Audi's ubiquitous turbocharged 2.0-liter four-cylinder engine, rated at 211 horsepower is the A5 Cabriolet's sole powerplant. If you want more ponies, you'll have to opt for the $58,450 S5 Cabriolet; it has a 333-hp 3.0-liter supercharged V6 mated to a dual-clutch manual gearbox.

   Still, don't go looking to bait sports cars; this is very much a relaxed grand touring car. The A5 I drove, which tipped the scales at 4,034 pounds, takes 7.2 seconds to reach 60 mph. Even the S5 Cabriolet takes 6.6 seconds.

   You may not notice because the A5's handling is so sublime. Its firm ride has enough suppleness to make the ride pleasant. There's a modest bit of body lean, but it's not objectionable.

   There's little body vibration when the top is lowered, and there's more trunk space than you might expect.

   To appreciate the Audi A5 Cabriolet is to realize what it really is: lifestyle gear. It says something about you, your taste and your economic status. For those who value refinement, great design and a luxury nameplate, Audi's A5 Cabriolet fits the bill.
Larry Printz, (757) 446-2220, larry.printz@pilotonline.com 
End of article.

Not too shabby, huh?  And, no, we didn't bribe Mr. Printz to say all those nice things about the A5.  I especially appreciate that he points out the look of the A5 Cabriolet with the top up.  It is hard to make a ragtop, or a hardtop convertible look good year round, but, Audi does it well (see below).

If you are interested in trying out the 2012 Audi A5 for yourself, call Checkered Flag Audi, your premier Hampton Roads Audi dealer, at (757)490-1111 to schedule a test drive.